All Nature Seems at Work
in Liz McQuilkin's The Nonchalant Garden
Posted on July 31, 2015 by Verity La in Verity La Reviews
The Nonchalant Garden, the first full-length publication of poetry by Tasmanian Liz McQuilkin, is so finely sequenced that it must be reviewed accordingly. The book lacks chapters yet can be divided into three: family history, language and death; fauna—specifically, birds—and flora; family life, sexuality and language.
The opening poem 'By the Pool of Siloam' suggests a passage from John Chapter 9: 'Jesus made clay, and anointed mine eyes, and said unto me, Go to the pool of Siloam, and wash: and I went and washed, and I received sight':
Here, at my desk, lines on a map
rise up in towering cliffs
and I'm back in The Walls,
standing again on King David's peak
[…]
Beyond, I see a hundred lakes and tarns
like shattered mirrors cradled in folds of hills,
[…]
tread lightly …
down to the Pool of Siloam, sit on its mossy bank
and listen.
The poem ends almost as it begins with a striking image:
I'm here, at my desk, with a map of The Walls
and there, still there,
by the Pool of Siloam.
McQuilkin is simultaneously at home and in The Walls of Jerusalem National Park—the collection's first garden, enormous and hundred-eyed, like all-seeing Argus—awaiting vision; her messenger Hermes, a patron of poetry.
Later, in  a series of four daughter-father poems about longing, absence, distance and loss McQuilkin introduces, yet never directly addresses, her father, 'whose boots I knew / better than the man.' He's a kind of Grinch:
Each Christmas Eve I watched him
assemble his collapsible canoe,
[…]
I waterproofed his hiking-boots,
rearranged the everlastings
on his Tyrolean hat.
The boots and the Tyrolean hat are reminiscent yet not imitative of phrases from Sylvia Plath's 'Daddy'. This poem, however, ends with ambivalence:
At home, he planned, tracked contours, plotted trips –
a restless guest. I watched
and waited to be invited.
('Alpine Sportsman')
Over time, the presence of the father diminishes. In the astutely titled 'How Mother Cooked Her Goose' he's mentioned only in passing. In 'Happy Make-believe'
[he] sits behind his paper,
sipping sweetened coffee.
The front door clicks again, he's gone
until tonight, late, again.
And in 'The Colour of Regret', the final poem in which he appears, he's inert and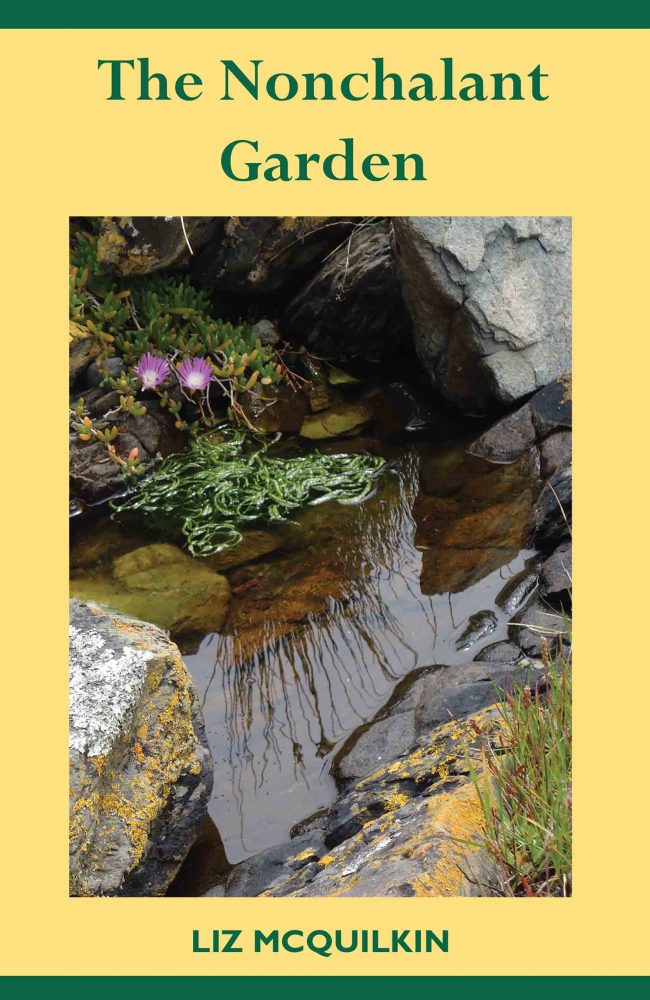 tied down by tubes,
his pallor merging
with white-grey hospital walls.
Before his death McQuilkin
undid his watch,
wound it, reset it,
as if corrected time could alter course,
[…]
placed the watch on his wasted wrist.
He didn't speak but watched me
watching him.
Ultimately she 'couldn't cross / the barrier he'd built / to block affection', couldn't express her love of him, and he was taken by death, 'white-grey', the colour of regret.
In a series of four daughter-mother poems about teaching, cooking, storytelling and loss McQuilkin also never directly addresses her mother. One senses she can't. In the daughter-father poems one senses she won't. Together, these eight poems depict how the individual responds differently to different memories (themselves gardens), to different griefs (also gardens).
In 'My Out-of-Step Mother' McQuilkin's mother's students choose at lunchtime 'to linger / on reading, writing, counting with coloured rods, / painting at easels' inside her classroom; '[o]utside, some act scenes from Shakespeare's Dream: / Puck and Oberon stalk the Grade 2 playground,'—another kind of garden, with its own unique customs—while 'Titania makes her bower beneath a willow'. Though her students 'smile' and quote from Dream
[t]he other teachers mock and make life hard,
they think her children too young for the bard.
In 'Happy Make-believe' 'her dressing gown is dark green velvet', like grass; she is soft, loving, unlike her husband, 'not yet ground down / by hard work / or hurt'. She is the Storyteller for McQuilkin and her brother. For them she selflessly '[builds] … a world / of happy make-believe / while hers collapses'.
In 'Perfect Timing' she waits 'white-haired' for death at 'The Home'. She admires its garden, 'the eucalypts and wattles'. 'Her silver-blue river, the Derwent, / fills her gaze, fires her mind, sets her free'. 'She likes all she sees', 'smiles', 'generously thanks' her 'darling' daughter (no such kindness in the daughter-father poems) before dying 'in her sleep, / neatly, her timing perfect:/ July 19th – birth day and death day'. This poem's peacefulness, its 'white' sharply contrast the frustration, the 'white-grey' of 'The Colour of Regret' (which immediately precedes 'Perfect Timing') and clarify the dissimilarities of the daughter-mother, daughter-father poems.
Among these serious poems are ones that spark with wit:
elders pinkly grin
broken teeth and betel-nut;
yellowed eyes see deeply,
grizzled heads nod silently
with the certainty:
We'll teach you more in this year
than you could teach us
in a lifetime.
('Volunteer Teacher in PNG')
'Word Music' through 'Hospital, Home', nine poems, focus on language and death, two metaphysical gardens. The first explicitly addresses the collection's title: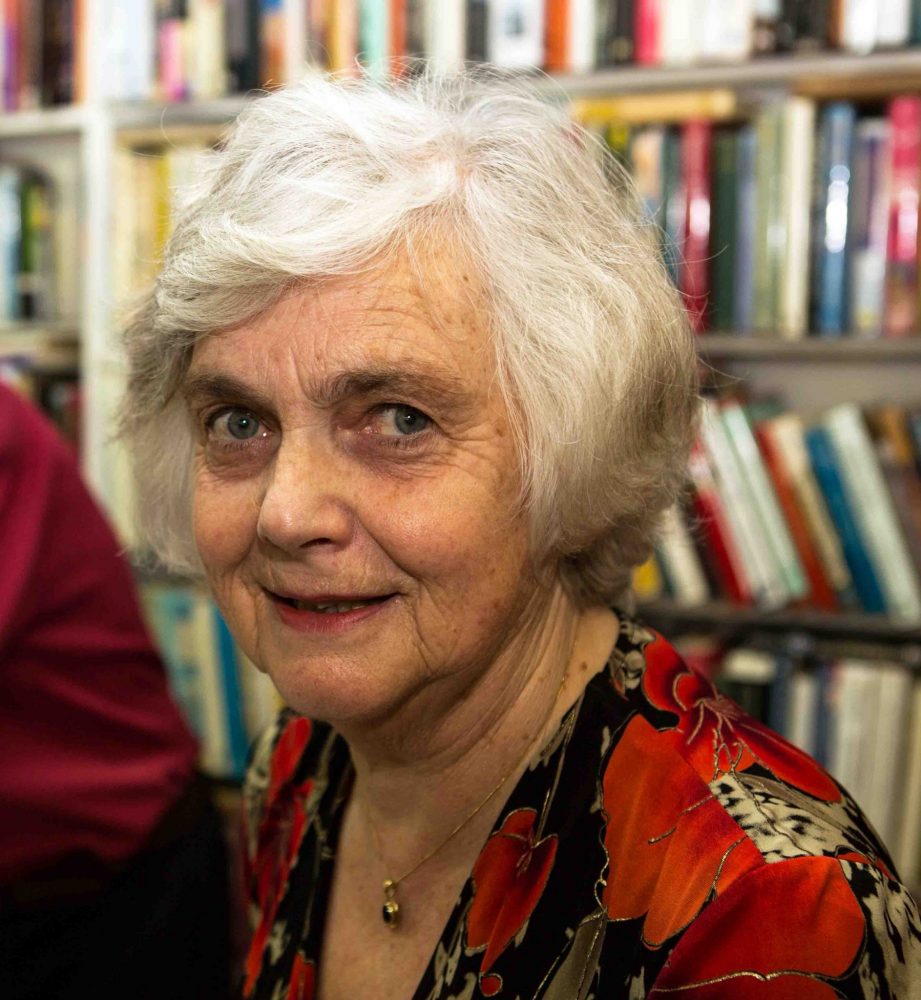 I love the sounds words make:
like nonchalant, my favourite,
[…]
Vo-lun-ta-ry eu-tha-na-sia:
its measure is rhythmic, trochaic;
a powerful prayer, a refrain
if I say it lightly – now and again.
There, that's nonchalant.
Death also seeps into three poems about one of McQuilkin's children: 'Last Day of Leave', 'So Much More to Say', and 'Soldier's Mother'. These are war-themed, as frank as the lyrics of PJ Harvey's Let England Shake, and refreshingly free of cliché. In the third she is 'haunted by a painting, a Pietà':
Jolted by news of Taliban attacks
I see my son sacrificed
for what?
Here, the important junction of religion and war underscores their dysfunctions.
In the first section's penultimate poem the family cat (which sometimes appears as a scourge of the domestic garden while simultaneously conjuring up the opposite: the wild gardens of other continents, their wilder feline inhabitants) is the 'Angel of Mercy', 'a soft stepping presence', 'a heat-bag at my waist'.
In 'Hospital, Home' 'sweet, heady scents – / jasmine trespassing the fence / Pierre de Ronsard gracing a trellis' supplant
rattling hospital plates
rumbling trolley wheels
beeping alarms
fast-pounding, anxious feet.
This poem's garden is a space where a former inpatient can
stretch out on warm summer grass
feel the velvet shoots fondle [their] pale fingers
watch the blue-gums touch the arc of the sky.
Family history, language and death are intricately linked in the first section's poems. The most compelling is 'One Last Time', for its portrayal of release from suffering. Musical, it acknowledges Billie Holiday's most famous song: 'strange fruit / dangling against the dawn'. Here, the garden is an assuager, its 'grass strained up / to reach, console, the limp bare feet' of the 'lover / [who] hanged himself'. It is a burial ground for memory: 'She'll let the sadness surface / just this one last time'.
*
The sky's most (in)famous inhabitants are avian in nature; it is fitting that the second section, which focuses on fauna and flora, begins with poems about birds. The first is an elegy:
Open your window to stillness at sunrise,
open your door to a garden bereft
of preening and feeding and song.
('A World without Birds')
'The Morning Falters', the eighth bird poem, also elegiac, shifts the focus from sky to earth: 'A bang against the window-pane: / a small bird falls', and the collection segues from fauna to flora. In 'Terra Firma', the first of the flora poems, the poet prepares a garden bed for a new rose, an 'exotic bloom':
I watch my gloved hands turn the soil –
see different hands, dark-skinned,
gritty with earth worship
as knowing fingers search for seeds.
It's a precise poem about how humankind has altered the world:
Once, Gondwana's garden
bore this woman fruits
to feed her family.
I drive far for food,
reap harvests of commercial greed
plant fancy hybrids
'Hannah Blows Gently', 'On the Terrace' and 'Summer Bliss' sift childhood innocence, flowers' determination, and sex, respectively. In the third poem McQuilkin 'approached the burning bush / not listening for the voice of God'; she saw
on every open flower
a pair of bronze-green insects
locked in congress
on a bed of soft white petals
nectar-rich.
The 'love-song nectar / drifting from [an] open door' lures her into the home—another kind of garden, perhaps the absolute—that she shares with her husband.
*
The third section, about family life, sexuality and language, is cleverly seasonal, beginning with a poem about autumn leaves, continuing with that golden garden: 'It's home with the vegetables and shrubs … // It's shopping at leisure … // It's a weekly long weekend of seven days … This mortal coil / is here to be enjoyed' ('Retirement').
'Middle Child' asserts the poet's love of a daughter who 'had inbuilt radar', who'd 'swoop and grab, / make a game of pairing [socks]', who would come alive—'ash-blonde hair escaping pigtails'—with '[no] big sister to steer the conversation, / no small brother teasing for attention'. Both poems are joyful and generous, like many from this section.
Two of the collection's most impressive poems attend to depictions of women. One, 'dressed as tradition decrees / for a classic white wedding', is chastised for premarital sex: 'the veil sensing the lie // … envelops her / …. to cloak the pretence'  ('The Bride'). Others are 'plastic mannequins', 'life-sized dolls' that won't say 'I have a headache'; they 'Won't wither with each winter / but stay as beautiful and buxom / as the day you open the carton'. ('The Perfect Woman', a poem that very faintly echoes aspects of Sylvia Plath's 'The Applicant'.)
McQuilkin returns to language in the final three poems. The playful 'In Bed with Billy Collins' contains wonderful puns: the American poet himself is the 'bell-like cadence carrying the poem / forward'. The poem ends as it begins, with iambic pentameter: 'while I lie richly satisfied in bed'.
The poem 'Iambic Pentameter' is humorous:
Weak / strong, weak / strong, it's so predictable.
And why five beats – five feet – to every line?
Why not six feet? Let them crawl, insect-like
across the page.
[…]
… two is bliss,
upstanding verse,
a poised and happy biped of a poem.
Bugger, it's back. Another pentameter line.
'Writer's Cramp' ends the collection:
I need my muse to loosen up,
take risks, let go, rebel[,]
[…]
release my brakes of diffidence and caution
let me feast
on wild
and wanton
words.
The muse did. So did the poet. Her apprehension's undue. McQuilkin is a fine grammatical gardener, landscaper of cadence, caretaker of punctuation. In her book the garden is many things: green-thumbed and weedy; exotic and familiar; an agent of destruction and creation. Above all, it is nonchalant, much like the voice of this poet who skips between free verse and formal, who writes with such confidence, ease and flair poems so intimate, pared back and fluid that they evoke those from Sylvia Plath's Ariel, Wisława Szymborska's Here and Carol Ann Duffy's The Bees.
May Liz McQuilkin's autumn be long and generous; let us hope to read a second full-length collection.
*note: this review takes its title from Samuel Taylor Coleridge's 'Work Without Hope'
The Nonchalant Garden
Liz McQuilkin
Walleah Press, 2014
64 pages, $20.00
_____________________________________________________________
Stuart Barnes is a poet and poetry editor of Tincture Journal. In 2014 he was named runner up in the Arts Queensland Thomas Shapcott Poetry Prize. Bend River Mountain (Regime Books, 2015), with Robbie Coburn, Nathan Hondros, Rose Hunter, Carly-Jay Metcalfe and Michele Seminara, is forthcoming, as are readings at Queensland Poetry Festival and Brisbane Writers Festival. He tweets as @StuartABarnes