Blokeship (on being a friend) (Dominic Carew)
Posted on September 18, 2015 by Verity La in Lies To Live By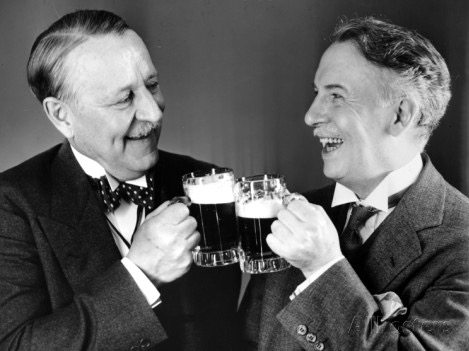 When Griff first told me about Lil, I thought: where, for God's sake where, am I going to get a kebab? I was hungover and frankly wasn't listening. But he was persistent that day, yammering on (you know how much he likes to yammer), until finally, after I'd put away fifty bucks worth of Pad Thai in a wok cave in Man Town, I got the point.
At the time it wasn't the biggest news I'd ever heard. Griff met a girl at Shore Club on Thursday night; Darryl Fisher his wingman. Nothing remarkable about that, I'd heard stories like that all the years of my young manhood. Stories more interesting, mind you. Stories about blokes hooking up with birds in places you wouldn't imagine. Pub toilets, for instance. Station wagons.
I'd had nine schooners, a six pack of coopers and four vodka soda limes the night before – was still watching my figure back then – and was kind of seeing things in black and white (no colour). The wok cave was busy as usual but even so, this noise kept grating against my mind. Bang it went (and bang!), making me all jumpy, making my face twitch like Gibbo's does (you know, Gibbo, our meth-head mate who functions brilliantly in the week but falls to the demons most Friday nights). Bang it went (and bang!) as though at any moment the roof was going to cave in. It took me some time to realise the noise was Griff, banging on about Lil. She's epic, he kept saying. She's actually really epic. At this point I started to take him seriously and when I take my mates seriously, I always give the best advice. So I said, Griff mate? And he said, Yeah?  And I said, Sounds like you like this girl. And he said, Yeah.
To this day, that's some of the best advice I've ever given.
The next weekend I had the pleasure of seeing Lil in the flesh down at Wharf Bar. She was alright, I guess. Pretty good looking bird, yeah, I guess she was. Kept herself healthy by the look of her pins, the way her calves – ever so slightly – made themselves known beneath her skin. Not a bad effort at all, I thought, and this may well have been the end of it and I may well have gotten on with the rest of my night had Griff not been so… what's the word? Well, he was acting very strange wasn't he? Yeah, real odd-like, looking at me over everyone's head, watching me out the corner of his eye as though I were a threat or something. So I went up to him at the bar and I said, Griff mate? And he said, Yeah? And I said, Is it me or is it stinking hot in here? And he said, It's stinking hot. That pretty much cleared the air. Nothing but smooth sailing from then on.
Sometimes I think though: what a rollercoaster, you know? What a delicate balance blokeship is. Blokeship and women, in particular. Choppy water if you're not careful. Like blokeship and sport. Better not rub it in. Better not let him know that a year before he met her, one summer night at North Steyne, Lil came up to me on the street and offered me a quickie on the sand. Maybe one day, when he pissed me off. Maybe then I'd take him to the side and say, Griff mate? He'd probably say, Yeah? And I'd say, I want you to know something.
Now I'm not certain or nothin', but I reckon the chances are he'd go, What? What do you want me to know? What is it?  Tell me, mate. What have ya heard about me? Jobbo's been talking shit again, hasn't he? I hate that guy sometimes. I swear to God he's the slyest mongrel in Man Town.
And that's the thing about Griff. He's always afraid people are talking behind his back. You just have to laugh. You just have to get him a beer and plough on with the night. As if any of us'd ever bitch about Griff. He's our mate. Isn't he Thommo? Oi Thommo? Griff's our mate, yeah?
_____________________________________________________________
Dominic Carew is a lawyer and writer from Sydney.