Ramen Night (Harold Legaspi)
Posted on October 30, 2015 by Verity La in Lies To Live By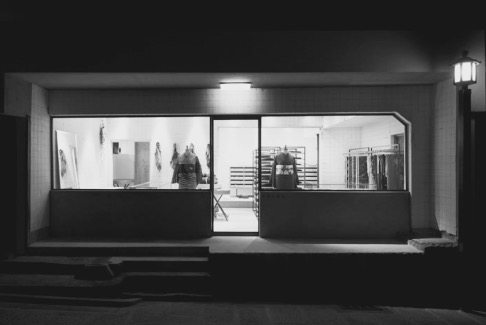 Dorian travelled lightly. He arrived at Narita airport as a tourist with only his laptop, Evian facial spray and a toothbrush. It was Dorian's first visit to Tokyo, and curious of the Japanese, he jumped into a limousine-bus travelling to Shibuya with a grin from ear to ear. 'I'm here to conquer', he informed the driver.
Dorian and Yumi had never met before. Yumi had answered an online personals ad which Dorian posted and then forgot about for over a year. He was tired of being used by other women he met online, but longed for companionship. Dorian and Yumi kept up their exchange until Dorian casually mentioned he'd be in Tokyo; it then seemed natural to progress their friendship out of cyberspace. They arranged a blind date for 9pm at Shoto Café in Shibuya.
At six in the evening, Dorian returned to Shibuya after a day spent at Tsukiji Fish Market heckling at the tuna auction. He changed briskly and tried on the new jacket he'd purchased from Shinjuku. Then he headed out to Roppongi to an Izakaya, a sake bar, called Gonpachi, to take in the cozy Japanese interior which had inspired the sword fight scene from Kill Bill. At the Izakaya, Dorian ordered a katsudon and indulged in the warm cherry sake, guzzling it down in one gulp.
The night crawled; Dorian kept eyeing his watch till it read 8:30pm then set off to Shoto Cafe, a prison-themed establishment, for his date.
At 9pm, Yumi was in the lift alone when Dorian stepped inside. The doors shut but neither of them pressed the button. The pair made eye contact. Yumi was the first to speak. 'Are you Dorian?'
'Yes' Dorian replied. 'I'm meant to be at Shoto Café. Have I come to the right place?'
Yumi grinned. 'I'm Yumi, your date. Are you on your own?'
'Yes. Yes. I read that Shoto was on the fifth floor. You're on your own too?' Dorian asked, comforted by Yumi's appearance.
'Not anymore' remarked Yumi. 'Join me for a nightcap?'
Dorian sighed. 'I was thinking the same thing.' He laughed, then pressed five.
Dorian and Yumi sat in the corner of the café. The subtle light and ambient music created an intimate, soft yet electric mood. Yumi took off her blazer to reveal a slender neckline. They ordered the same thing – a 'Mother's Milk.'  The packaging on the carton depicted a baby sucking on the teat of his mother. In Japanese, the slogan read: 'The breast-tasting drink, EVER!'
Dorian was nervous, and took his first sip. 'Deliciously wholesome; so natural. Is there anything more life-giving than mother's milk?'
'I doubt it. Freud would have a field day in Japan. The inventor of Mother's Milk obviously had an Oedipus complex', said Yumi.
'I shudder to think of the scene inside the manufacturer's factories… poor farm-girls and milkmaids shackled up to cold, pitiless machines that squeeze their tits', Dorian gasped.
Yumi covered her mouth with her hand, grinning. 'Ai-yah!' She took a gulp and got a milk moustache. Dorian nestled his hand on her face and wiped away the white trail above her lip. The pair giggled like schoolgirls.
Underneath the table, they shifted their legs closer until they were touching.
'How much longer are you in Tokyo?' Yumi asked.
'Two days. But I'm not in any hurry to leave. I can stay longer.'
'I'd like to invite you to my home for ramen night. My home is also my salon. I make kimonos. It's just around the corner. Not tomorrow, but the day after.'
'It's a date', Dorian beamed.
On his final night in Tokyo, Dorian doused himself with cologne in preparation for his visit to Yumi's abode. His slicked back his hair and wore boat shoes purchased from a street vendor in Harajuku. The address Yumi gave him read 'Nonbei Yokocho', which translated to 'Drunkard's Alley,' off Shibuya's bustling centre.
From the outside, behind a glass window, two mannequins wearing kimono stared at him in a mid-bow pose. He knocked. Yumi appeared wearing a kimono, smiling. Dorian bowed, took his shoes off then entered.
Yumi was no shrinking violet. The moment Dorian set foot in the salon she took charge of the cooking, raiding the fridge for ingredients.
'What are you doing?' Dorian asked.
'I'm cooking you dinner. Did you know that here in Tokyo, parents arrange for their sons and daughters to cook together with potential life-partners? It's the surest way to determine suitability', Yumi grinned.
'I saw a vending machine today where I could get cupcakes in a can. Can the Japanese be any zanier?' Dorian asked.
Yumi walked to the cupboard, stood on her tippy-toes and reached for a contraption resembling a fan. 'I got this as a gift from my cousin.'
'What is it?'
'You attach it to your arm while you eat. Turn it on and the wind blows your food to cool it down quickly.' Yumi handed the device to Dorian, who inspected it with a keen eye.
'Genius! I'll never burn my tongue again!'
'Just press the button' said Yumi.
The pair watched Yumi's ramen, the steam drifting from the broth. Wary of the shaved pork and the consistency of the miso, Dorian took a bite. Then, he took another. The chili paste mingled with the chewy noodles, while the spring onions gave it texture and zest. No dish was left unfinished. The bowls appeared clean after the meal, as if they had just been washed.
After they ate, Yumi beckoned Dorian upstairs to her display room. She took his hand and guided him closely. Yumi flicked on the lights to reveal a row of mannequins, each wearing a different kimono.
'Take your pick' she said, 'go on.'
Dorian's jaw dropped. Light reflected off the silks and filled the room with scintillating colours. He gently brushed his hand over the pieces one by one, and then chose the kimono closest to Yumi.
In the changing room, Dorian was sweating. So the nagajuban goes under the kimono, the obi-belt goes over it. Or is it… Wait…
'Are you OK in there?' asked Yumi.
'I'll be out in just a minute' Dorian replied, perplexed by the items of clothing.
'Do you need a hand?' Yumi was eager to see how he'd look.
'I'm OK, still… trying… There!'
Dorian stepped out of the changing room. Yumi's face lit up. She grabbed Dorian's hand and placed him in front of the mirror.
'Now you're one of us' Yumi exhaled, as she stared at the mirror into Dorian's eyes.
___________________________________________________________
Harold Legaspi was born in Manila in 1980 and migrated to Sydney in 1989, where he now resides. In 2015, he embarked on a writer's residency in Beijing. He is writing his first novel. He tweets @haku_chen