Posted on February 1, 2014 by Verity La in Verity La Reviews
Review by Phill Stamatellis
The death of the book has become a tiresome mantra that in recent years has reached fever pitch.
That beast Amazon has stretched its tentacles beyond the printed word to the e-book. Downloadable books (and media of all kinds) would seem to give the doomsayer's predictions some weight. This is not a new phenomenon; every generation has had its go at writing the book's epitaph and there were concerns about the future of the book when newspapers became popular. In the 1980s and 1990s the explosion of home computing, faxes and cellular phone technologies had the doomsayer's whipped up into mouth-foaming apocalyptic frenzies. In the last few years they stand about with a Kindle raised in the air declaring the hour has finally come. The reality is few technologies totally supersede another. Radio survived television; the book, an ancient technology, has proved to be resilient and will continue to have mass appeal.
What is of concern is the risk-averse behaviour of the major publishing houses. Tightening margins, the pressure for growth and increasing profits is an issue for all businesses in today's competitive global market. In short, it is more difficult than ever to be published—especially if your work is of a literary nature. In the natural world a void will be filled; it is no different in the world of business and this void has created opportunities for a growing group of independent publishers. One of these is the non-profit press Finlay Lloyd, which recently launched a series of 'smalls' (FL-Smalls).
Finlay Lloyd believes in the book as an enduring physical object. The book, while primarily concerned with content, is also an experience. It has weight, form and the act of turning its pages triggers reactions on emotional and intellectual levels—every book has a unique presence. FL-Smalls were designed around form and each author was given sixty pages to create a work of fiction. The result was five books released in 2013 as a companion set, two long stories, two graphic novels and one book of poetry. In an age where convenience is a major factor in consumer design, the books are light and are easily slipped into one's back pocket, handbag or man-bag (okay, satchel if you must insist). They can easily be held in one hand, making them a perfect accompaniment to coffee, the bus, train or tram. The front covers are individually illustrated, the back covers are graced with a photo of the author, and even though the books are compact the typesetting is generous and with this reviewer's strained vision easy to read.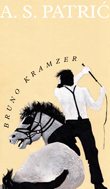 The character of the title in A.S. Patrić's Bruno Kramzer is a 'Professional Rogue' who is paid to bring down individuals a peg or two. This is often in the form of humiliating pranks and sometimes-sinister acts of violence that, as the first few pages attest, can go horribly wrong. Bruno Kramzer never chose the life of the Professional Rogue; he was once a humble seller of nuts and due to a change in circumstances fell on hard times. The novella has some interesting themes: the most prominent is how we think we have control of our lives but that control is largely an illusion because we are part of a bigger game being played. There is an ambiguity surrounding the setting of Bruno's world, until you realise that it is linked to Kafka's The Trial, which, coupled with the third-person narrative voice, results in Bruno Kramzer having a fable- or parable-like quality.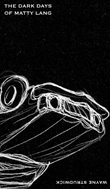 In The Dark Days of Matty Lang author Wayne Strudwick plunges the reader into the protagonist's life of memory loss and painkillers. Matty wakes to the sound of smashing glass determined to fill in the lost moments in time prior to the events that have caused him so much anguish. We are taken along page by page as different people and places reveal one gut-wrenching memory after another. The Dark Days of Matty Lang is a tale of teen love, loss, misguided loyalties and small-town tragedy.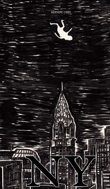 Mandy Ord's first graphic novel, Rooftops, was published by Finlay Lloyd in 2007 and was followed by Sensitive Creatures (Allen & Unwin) in 2011. Ord's comics are instantly recognizable by their heavy ink-swathed style and one-eyed Mandy character. Her work is largely autobiographical and like in Rooftops where Mandy takes us for a walk through Melbourne on her way to the cinema and discusses the nature of coincidence, NY takes a stroll through Manhattan. In New York Mandy is full of doubts and is conscious of her vulnerability, but soon comes to realise the Big Apple, for all its promise, has its own.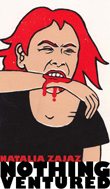 Nothing Ventured is Natalia Zajaz's first book and is a humorous offering to say the least. It is a series of graphic stories, a small anthology of her work that deal with subjects like, housemates, convenience food, and the mundane aspects of life. It is full of quirky humour (including some great poo jokes) and the loose form of the drawings perfectly compliments the subject matter. Guaranteed to put a smile on your face.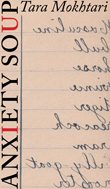 Any interest in poetry your reviewer may have developed was mercilessly crushed by the secondary school system. So it was with nauseous trepidation that he began reading Tara Mokhtari's aptly titled Anxiety Soup. The first poem, Dear Stevie, is homage to poet Stevie Smith who survived a suicide attempt and whose work often explored the subject of death. The last few lines of 'Dear Stevie' sum up the poem, washing away the old high school anxieties over poetry, and left a lasting impression on this reviewer.
I should have left it at that
that Wednesday in July when I
packaged up all your deaths
and submitted them to be judged
knowing full well all your deaths
were perfect
and only one of mine
could ever be.
Powerful stuff. Anxiety Soup is poetry that is contemporary in its themes, accessible, and enjoyable.
Finlay Lloyd has released a fine bundle of work in a form that has a collectible feel and most importantly highlights the book has qualities that cannot be replicated or transferred in a digital format.
Bruno Kramzer by A.S. Patrić
The Dark Days of Matty Lang by Wayne Strudwick
NY by Mandy Ord
Nothing Ventured by Natalia Zajaz
Anxiety Soup by Tara Mokhtari
Finlay Lloyd 2013
$50.00 or $12.00 each
60 pages per book
Posted on December 25, 2011 by verityla in Lies To Live By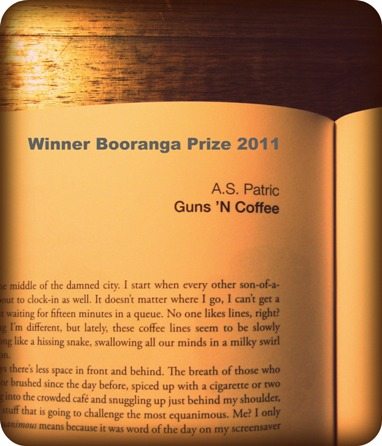 I work in the middle of the damned city. I start when every other son-of-a-bitch is about to clock-in as well. It doesn't matter where I go, I can't get a coffee without waiting for fifteen minutes in a line. No one likes lines, right? I'm not saying I'm different, but lately, these coffee lines seem to be slowly moving us along like a hissing snake, swallowing all our minds in a milky swirl of white poison.
These days there's less space in front and behind. The breath of those who haven't eaten or brushed since the day before, spiced up with a cigarette or two just before coming into the crowded café and snuggling up just behind my shoulder, is the kind of stuff that is going to challenge the most equanimous. Me? I only know what equanimous means because it was word of the day on my screensaver yesterday.
If it's not that, then there are those women with the angry industrial-strength perfume that burns like a corrosive through my nasal passages and leaves a chemical taste on my tongue. I used to think they had lost their sense of smell, but now I know it's an attempt to get some space in these coffee lines.
None of this is going to explain why I brought a handgun along with me today. I'm just saying, there's too many people in this damned city, and they're all starting work around the time I need a coffee.
*
It's a modest gun. I'm not a closet Dirty Harry wanting someone to make my day. I just want someone to make my coffee.
When I pull it out for the first time the woman in front of me just kind of blinks sleepily and goes back to daydreaming about her strong latte with two sugars.
"Hey," I say to her. She's ignoring me so I give her a wave of black steel near her right ear. "Hey," I say again. "I'm not kidding."
I fire the gun through the wide doors of the café and out into the street. The shot travels just above the heads of the masses of people pushing along the footpaths. The bullet shatters a pane of thick glass across the road in the fashion store. People get a bit cut up from the crashing glass and a man begins screaming like someone has cut off his toes. The pedestrians keep passing, barely pausing, crushing the glass beneath their shoes as they make their ways to work.
My wrist is limp from the kickback but I transfer the gun to my left hand as though it's all the better to display the weapon. The double sugar latte woman steps aside. The rest of the folks in the line follow her example.
Bradley the Barrista knows how I like my coffee. His arms move with speed and precision, a perfection of machine engineering translated to human form. It's as though I press his fast forward button and then the stop button when he finishes my ristretto strength long black with three grips and three sugars.
I pay him and tell him he can keep the change on a ten dollar bill. It's only polite to show an appreciation for good service.
"How's your day been Brad?" I ask after my first satisfying sip.
"It's been pretty busy Mr. Bushnell. This is the first time I've had a moment of stillness for two hours."
"Are you enjoying it Brad?" I ask.
"I am indeed, Mr. Bushnell," he replies, and adds, "There's something about a loaded gun that makes one appreciate a moment like this. Thanks for that, Mr. Bushnell."
"Glad I could do that for you Brad. I'll now have the pleasure of strolling to work rather than the unwelcome power slalom through those frustrated crowds outside. I'm going to have a lovely amble to work today, Brad."
As soon as I move away from the counter the line resumes its shape, longer and angrier than ever. A rattler of a line extending outside the front doors, the furious tail shaking with the anger of twenty mobile phones, palm pilots and planners going off simultaneously. It's a soothing sound when you have discovered the ways of the snake charmer as I have.
*
I come in the next morning with a smile in my stride and a spring in my face. I'm eager to display my Kimber 1911 Compact again. I want to get that snake dancing out of my way.
I don't have a problem until I arrive at the head of the line and a high-powered exec smiles like his teeth are made out of diamonds and he eats crystal croissants with his coffee. He's been held in the purgatory of the line for the last fifteen minutes and can't swallow me moving past everyone with a royal wave of black steel. Maybe he didn't see my warning yesterday but I can tell he is a natural born hero.
"You are not going to shoot me for a coffee. That's ridiculous! It's only a few dollars and a few moments. You can't kill a human being with such little motivation."
"What's your game, Mr. Suit?" I ask him.
"I don't want to play. I'm just going to get a coffee and go to work."
"Well, Mr. Suit, I'm not going to go into a lengthy analysis of the situation here. But I will say this — it's not about a few minutes or a few dollars. It's about an accretion of time that mummifies my brain and turns my thoughts into sand. More than anything it's about the brief, black, bitter taste of liberty in those cups. You're standing in the way of my freedom Mr. Suit. I advise you to step a side and give me a moment with Bradley the Barista."
"I don't think so," Mr. Suit tells me with his diamond grin.
"Mr Suit," I say and step forward. I raise the gun to the height of his heart. "Reconsider, please," I say and wiggle the Kimber 1911 Compact. I polished it last night and I know it has a lethal gleam to its black metal.
He looks at it like it's a water pistol and turns around and asks Bradley for an affogato. It's more of a desert than it is a coffee. An affogato! It also happens to be the most time consuming thing he could have asked Bradley to make him. I take it as a personal affront. Mr. Suit says he also wants two scoops of ice cream and not just one. I give him two bullets instead and I'm not sorry.
Mr. Suit dies in a very elegant creaseless crumple of the best Italian fabric and design. A macchiato stain of blood spreads across the immaculate collar of his white shirt and drips to the black marble of the café's floor. Everyone lines up behind me. Bradley's hands fly to the handles and dials of his Deco D Dosata Gaggia espresso machine.
*
The next morning I walk into the café and feel sure there will be no more need for gun waving and I won't have to kill anyone to get a coffee. I had a difficult night getting to sleep. For hours I tried to rest my mind and body. Even when I managed to drift away I found myself waking in a fevered state, my sheets wet right through and my pillow soaked. In short, too much coffee. There's got to be limits even to these dark pleasures I suppose.
The line is long and I can barely get through the doors of the café. I announce myself but no-one moves.
The double sugar latte woman stands before me again and I tell her, "Surely, my mettle has been tested. My resolve can't still be in question."
She turns around and a wash of her perfume breaks over me in a dizzying ocean of petals and pollen, bouquets of sweet smelling chemicals rushing down my throat. I take a step back but I stumble and grab a café chair to steady myself.
"You don't look good," she tells me.
"I didn't sleep very well," I explain. "Frankly, my experiences in the toilet haven't been too pleasant either. I'm sweating a lot and my stomach feels uneasy. Queasy, I feel very queasy."
"Coffee's not for everyone. Perhaps you should drink tea instead. Take a few moments every morning perhaps — treat yourself to a pot of Orange Pekoe leaf. You'll find it's a lot more suitable to your nervous system. Our culture has so many problems and diseases that stem from stress and anxiety and there's nothing that generates and promotes these things as does the addiction to the coffee bean."
I'm starting to feel disorientated. People are pushing past me to get into the store and others are coming out with steaming take-away cups filled with the delicious beverage that will give me the boost I need to get through the next few hours of my life.
"Shut up, you scandalous hypocrite. You're here for the same reason I am. You need the coffee bean as well."
"I drink decaf."
"Decaf?" I say. "Decaf!"
"Yes, Decaf. Decaf indeed."
"Don't talk to me about decaffeinated coffee. It's like taking a shower in a raincoat."
"I don't think so," she says.
"It's like eating one of those burgers made out of lentils and cabbage."
"No, it's not," she says, looking at me like I'm someone to be pitied.
"Should I remind you I'm carrying a weapon?" I reach below my arm and remove my Kimber 1911 Compact from a holster I bought for it yesterday afternoon. "You don't require further demonstrations do you?" I pull it out and hold it before her.
"It's not a good idea. There's a room full of coffee drinkers here after all. Every single one of them desperate for that first hit, just like you. There's no way you can keep a trump card like that in a room full of losing gamblers."
"What?" I blink at her. "Just move!" I waved the gun with two sharp movements to the right.
She steps aside with a sorrowful expression. I see the line has changed. Everyone in it has removed a firearm from a pocket or handbag and they all have these guns pointed at me. Thirty barrels are trained on my head, chest and stomach. I blink but I can't really take in the image of all these respectable city workers armed with such deadly weapons.
I look over to Bradley the Barista and ask him, "What's going on here Brad? Didn't I invent the game? It's my ball isn't it? I get to say how we play. Bradley — tell these people!"
The Barista wipes his hands with a tea towel and a regretful look passes across his face. He says, "I'm sorry Mr. Bushnell. No more coffee for you."
"What?" I ask the question meekly but I feel my heart kick in my chest at never having another morning jolt from Bradley's beans. "What?" It comes out as a roar this time. "You don't get to decide on something like that. I've been coming here for years. I've been working in this damned city…"
*
My anger had begun to foam like milk in the bottom of a metal jug and I was spitting with my eyes closed when I said 'damned city.' My weapon might have been raised but it was more a gesticulation than an intent to harm anyone. Coffee drinkers are jumpy though and their fingers get twitchy.
Posted on December 31, 2010 by verityla in Heightened Talk
Liner Notes:
the Above is a Link Poem
the poetry is sufficient
we all have our associations
however
with every word & idea
these are just some of the possibilities
Words by Capes
Links by Patric
Posted on June 20, 2010 by verityla in Heightened Talk
so we took the rhyme
out of poetry
and the reason
out of song
we took rhythm
out of voices
chose flat,
unpretentious faces
and smiled in ways
and days
lazy eyes and
wandering
laughter
looking for new methods
with dead means
inventing
terse terminology for termites
found
desiccated deracinated dreams
flakes of skin
and dusted hope
swept to the corners into piles
swept under and up and away
broke Shakespeare's bones
skull-fucking the past, and fast
conquering death with a grin
one orgasm at a time
and we'll call it poetry
in ransacked                                         mother tongues
coming up with Roman coins
she whispers from the stage
'the murderous heart of Caesar
must be unafraid of daggers'
because I'm still dreaming
Pax Romana without the Romans
without iron swords or empires
a new kind of colosseum
for a new kind of poetry, that
is ready for lions and bears
is ready for other Roman games
like crucifixion and decimation
that sees the stage as a place
worth spilling your blood
and now she says
'I've seen the past and future
and you and I are neither
poetry is what remains now'
and she leaves
me
wondering
what else to do
with                 everything
all the things that I need
to                     sacrifice
she answers as she exits
'we have hidden the world
in these ancient skulls
we wear as our heads'
a new kind of poetry
that requires Roman skills
with hammers and ladders
aqueducts still running
that offer digital blood
digital circulation, a heart
a perfect reconstruction
an ideal systolic
diastolic
digital
rhythm
that says
poetry is
poetry was
poetry never                ceases
she whispers from the wings
'it doesn't matter what we've done
look at what poetry does with us'