Posted on February 12, 2013 by Verity La in Lighthouse Yarns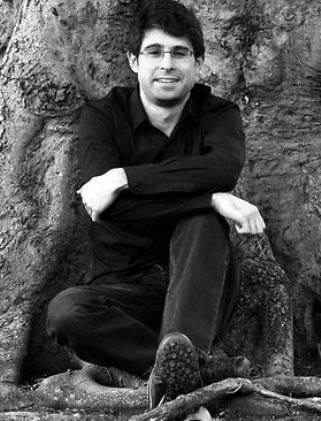 Whether in person or over the wonderful, magical internet thingy, Andrew Croome is fantastic company – smart, thoughtful, and disarmingly friendly.  His most recent novel is Midnight Empire (Allen & Unwin, 2012), an espionage thriller that deftly explores drone warfare.  Described by publisher Allen & Unwin as a 'Cold War historical novel', Croome's first book was Document Z (2008), which examined the infamous Petrov affair. For Croome the book won the Australia/Vogel's Literary Award in 2008 and the University of Technology Sydney Award for New Writing at the NSW Premier's Literary Awards, and was short-listed for the Commonwealth Writers' Prize for Best First Book and the Ned Kelly Award for Best First Fiction. In 2010 Andrew Croome was named a Sydney Morning Herald Young Novelist of the Year.  If all this isn't enough, Croome has a PhD in Creative Writing from the University of Melbourne, which investigated the relationship between fiction and history. While others might ask him about the moral ambiguities of bashing up countries by remote, we ask him about the big issue – literary craft.  Interviewer: Nigel Featherstone.
INTERVIEWER
How do you start a novel?
CROOME
I think with two things. The first is an idea – a zone or a topic that feels 'big' enough. Ideally, it will be something I don't necessarily know too much about – so that there's a process of discovery and mystery in the writing – yet it will also not be so alien that it feels beyond me to capture. This relates to the second thing, which is to find something outside the ordinary: a distance on the ordinary that will act as a kind of 'source' for the writing, that will offer an essence or an imagination at the core of the novel. In Document Z, this was the Cold War and the period of the 1950s and often the aura of photographs from that time – not necessarily of the historical figures I was writing about, but perhaps just of streets or crowds or buildings. In Midnight Empire, it's the landscapes: the deserts of Nevada or the distant mountains of Afghanistan or Pakistan. I feel like that – finding the 'source' – is where novels begin. The rest follows later.
INTERVIEWER
I'm really interested in your idea that for you a story starts with a sense of place, especially as your novels have considerable plot and story momentum.  At what point do you start thinking narrative structure?
CROOME
For me, narrative structure comes last of all. Before that has to come the narrative situation – the premise – and the characters who will occupy that space. Some would argue that characters and narrative are in fact one and the same, because the former tend to dictate what is possible in terms of story, and I think that's mostly true. Plot and momentum are important, but for me any narrative structure is for the most part about meaning. It's one of the spaces in a novel where the logics of the subject assert themselves. Only once the story is underway does narrative structure come to the fore, especially in the later stages. Document Z and Midnight Empire were different in that the events of Document Z (but not the narrative) were defined by history, whereas in Midnight Empire the story is pure invention. That made them quite different projects, and in terms of narrative I think Midnight Empire was more challenging. I was trying to weave tropes from the worlds of the war on terror and poker together, and to find a narrative that made sense in both.
INTERVIEWER
Do you have moments where you ask yourself, where is all this going?  If so, what do you do – keep writing until the story resolves itself?
CROOME
Yes. I think uncertainty about direction is an important part of the writing process – part of exploring the terrain the writer has chosen. Too much planning probably inhibits the ability of a work to set its own course, to follow paths and find conclusions that are unexpected. Thus, I see not knowing where something is headed as just part of writing – which makes the solution more writing (which could also be re-writing). That said, I usually do have a final destination in mind that I am writing towards. In Midnight Empire, I knew that I wanted my protagonist to end up in Europe, playing poker and existing 'off the grid'. When I began the novel I didn't know how or why he'd get there, even if I knew he would. The reasons for that were ones that the novel assembled over time. Alongside 'Where is all this going?' another important question is 'Where has all this gone?' That is useful for understanding the story that you've reached, then for redrafting in order to tell it better.
INTERVIEWER
And what about ending a work?  With your two novels have you found that they've ended quite naturally and neatly, or do you rework and rework, sometimes going back to earlier chapters to make adjustments?  I'm reminded here of something Peter Carey once said, and I'm paraphrasing: that if chapter thirty doesn't work it's likely that something in, say, chapter three isn't working.
CROOME
I think that there are few, if any, endings in novels that are as satisfying as the journeys which arrive there. In the sense that journeys determine endings, I'd agree with Peter Carey that if the ending is troubled, the cause of the trouble is to be found elsewhere (and the problem perhaps bigger than a failed ending). I think all that should be asked of an ending is that it live up to the journey. My favourite endings, when I think about it, have more to do with poetry than story – things like Cormac McCarthy's brook trout at the end of The Road ('On their backs were vermiculate patterns that were maps of the world in its becoming. Maps and mazes. Of a thing which could not be put back') or John's dilemma at the conclusion of J.M. Coetzee's Summertime, as to whether he will nurse his ailing father, or abandon him ('One or the other: there is no third way'). Mostly the task of an ending is really to carry the reader out of the experience of the novel, without being disappointing. If the ending is doing that, it could be that the journey is working too.
INTERVIEWER
Both Document Z and Midnight Empire are intimately concerned with the politics of the respective eras. Do you see yourself as a political writer? What motivates you to write so knowingly of political context?
CROOME
While my books are concerned with different types of politics, I don't see myself as a political writer. That doesn't mean that my work is without politics, just that the politics are driven by questioning and exploration, rather than by ideology or message. I am intensely interested in politics, especially those that are used to justify or enable actions that are morally fraught. I enjoy characters who are driven by beliefs, who consider themselves to have thought deeply about their world, and who see in the ordinary and day-to-day the influence of global forces. If I had to say what motivates this, I think it's that all politics are a way of seeing the world and, in a novel, threading together these different ways of seeing seems like a way to get at a little more of the truth not just about those views, but of the greater shape of things. One of statements I think Midnight Empire makes is that while there is danger in following ideology, there is danger in following nothing too.
INTERVIEWER
You mentioned Cormac McCarthy and JM Coetzee earlier.  Which other writers inspire you in terms of technique and craft?
CROOME
I admire Solzhenitsyn and his ability to draw a character, especially works such as The First Circle, We Never Make Mistakes and his prose poetry. Also Don DeLillo for what he writes about, with Underworld and Libra being an influence on my own writing. More recently, I've been reading Richard Ford, but in the last while, nothing has topped Per Petterson's Out Stealing Horses for me. I'd also list John Le Carre and Tinker, Tailor, Soldier, Spy, The Honourable Schoolboy and Smiley's People – alongside Conrad and Greene, these works are the template for writing about espionage in a way that goes beyond clever plotting and hard boiled protagonists.
INTERVIEWER
You said last year that writing was the hardest thing, and that sometimes you'll spend months not writing at all.  What's the impetus to start doing it all over again?
CROOME
Writing is hardest thing that I know how to do, and between projects I do spend some time not doing it.  Other writers might go straight from one novel to another, but for me these are such large endeavours that a break to work on other things for a time feels worthwhile. The impetus to begin again is the new idea for a book, but also the pleasure of writing itself, the satisfaction of writing sentences. After that, the impetus becomes the ability of fiction to imagine and to find and create meaning.  Once the writing starts, discipline returns.  One of my favourite observations on writing comes from Bill Gray, the author in DeLillo's Mao II, who says, 'I'm a sentence maker. Like a donut maker, only slower.'  Writing is work, but the impetus to do it is that it's work that's a little bit mysterious as well – exactly how it functions and what it achieves can be mysteries for the writer too.
Posted on September 25, 2012 by Verity La in Verity La Reviews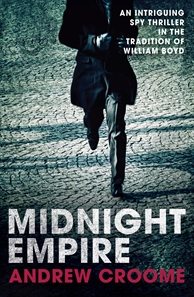 Review by Tristan Foster
LinkLock, a technology company based in Canberra, has developed a method of encrypting and securing data feeds in a way that makes them theoretically impossible to hack. This piece of tech is attractive to the United States Department of Defense, as the data sent to and from their drones operating in the Middle East is being intercepted by the groups they're targeting. LinkLock engineer Daniel Carter is sent to oversee a test of the software, and must take part in drone flights over Yemen, Oman and Afghanistan, ostensibly joining the US's remote war.
This is the premise of award-winning, Canberra-based author Andrew Croome's second novel, Midnight Empire, an espionage thriller exploring the intricacies of twenty-first century warfare.
Running parallel to the story of Daniel's role in a faraway war is a sub-story about poker, the rules, its players and the tactics of the game. It's here, with poker, that Midnight Empire begins. Dmitri plays the game on his PC in a grey and distant Russia. At first, he uses the winnings to feed his family, but he quickly becomes a professional player, developing mathematical theories as he travels the world, winning huge pots of money and meeting our protagonist, Daniel, along the way.
The prologue's solid colours and texturelessness is something of a bluff. That it's misleading only becomes clear when the narrative proper begins and there's a surprising and pleasant shift in story style and protagonist and place and subject. Detail, absent in Dmitri's story, now rises – 'The fridge was barren. A unit on the wall displayed both the indoor and outdoor temperatures, 59 and 98°F. There were six pillows on the bed.' – bringing the story into sharper focus, exposing the reader to the bright daylight of Las Vegas.
Drawing the two narratives together is the simple fact that the drone operations are being controlled from the desert outside Las Vegas, the gambling capital of the world. Despite the long hours at the air-force base, the game is inescapable. By placing them side by side, the two are inevitably compared; Midnight Empire makes the point that they're both games that aren't in fact games.
Croome's idea of remote warfare as a game akin to poker – making moves based on behaviour and 'intelligence' and speculation – could quickly have gone awry. But he makes it work, partly because he doesn't reduce either one, instead bringing poker up to the level of the life and death nature of remote warfare.
Crucial to the story is the concept that no war is remote, that there's no such thing. It's a point that Ania, a poker player and one of the story's few female characters, makes to Daniel. 'If what you are fighting is a war, then you must surely be in danger of dying,' she says. 'Otherwise what you are fighting is not a war. It is something else.'
It's also through his treatment of remote warfare, channelled through the character of Daniel, that Croome has success. Daniel is uncomfortable with what he's participating in, for reasons even he is unclear about. This is a world of unflinching men who have simple answers to hard questions, but it's one which Daniel has willingly inserted himself into, his feelings of displacement inevitably bringing the situation to crisis.
Daniel's confusion about his role is a nice, humanising touch. However, it is the only way the reader really has an opportunity to connect with him. Midnight Empire takes the idea of the detached, all-knowing writer and the hovering, all-seeing drone and combines them. Daniel is viewed from above, sometimes from near and sometimes from far, as if from the impartial eye of a drone, while he too views from above. From this height, connections on the human level cannot be made.
Of course, this could be incidental. But one of the points that Croome makes with Midnight Empire is that drone warfare, whether immediate or remote, is indiscriminate. At times, Daniel becomes smaller in the narrative, shrunk by the enormity of what he has become enveloped in. There are 'hours in which Daniel became pretty much invisible, just the encryption operator, a benign presence, a regular face.' This shrinking, or zooming out, is compounded by the effects of his displacement, of being from somewhere that isn't here, and while here, experiencing somewhere else. This skilful erasure of Daniel reinforces the idea that you do not escape this, that after entering the war machine, you do not leave it.
The story is told, fittingly, with a straight face and a cold stare. But Croome's cold stare is interrupted by the occasional glance away, an unevenness created by juxtaposing a speedy narrative with stony, near-DeLilloan descriptions of the Las Vegas light and desert landscapes. These patches are reminders that Document Z, Croome's 2008 Vogel Award-winning debut novel, a fictional account of the Petrov Affair with a stronger literary bent, was no accident and Croome's writing can be of the literary kind, even the focus, if he wants it to be. But does he want it to be? They recur inconsistently, all but petering out by the story's conclusion.
Much of Midnight Empire's action takes place on PC monitors. When Croome writes, 'They came down out of the mountains, flew above the flat green lands that approached the city, came out of the bearing of the sun,' what he means is Daniel, the drone pilots and other officers watch computer screens in a hut in the desert. That Midnight Empire is compelling and tense despite this is testament to Croome's skill as a teller of stories. Any stylistic sideways looks, then, are those of the new practitioner; Andrew Croome knows what he's doing, and confidence and evenness will come.
On the cover of Midnight Empire are the words 'fiction', 'crime', and 'spy thriller'. This is where we are now, where publishing is. And it's a bit of a shame, because Croome's novel is all of these things and none of them. Midnight Empire is a smart, taut exploration of the methods of a particular, uncompromisingly modern kind of warfare. It's addictive and suspenseful and manages to be both these things while being set in a time where remote warfare still seems so distant, happening somewhere over there and not to us, out of the now, overseen by men who call other men 'sir'. But, of course, this is happening. It has been happening and will continue to happen, and it will reach a stage where we won't have to go to it, it will come to us.
Midnight Empire
Andrew Croome
Allen & Unwin, 2012
238 pages