Posted on February 19, 2016 by Verity La in Book Extracts, Events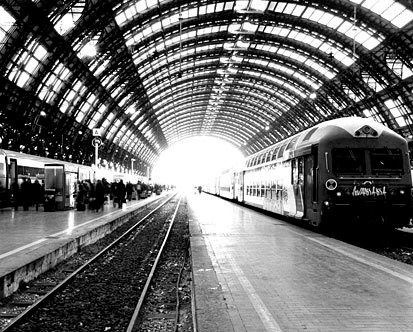 Australian Studies Conference, Hachioji, Tokyo (David Gilbey)
There are no seats on the shinkansen to Tokyo
so I stand for 300 kilometres, suspended,
at more than 200 kph,
clambering the rope ladder of my friend's manuscript
from last night's lasagne and saké
to fiction's ever-present otherworld.
At the seminar Aust Lit is all kanji to me,
the familiar made suddenly strange.
Titles are stepping stones in a Buddhist garden.
The gods metamorphosed:
Patrick becomes a stone bridge, Judith a purple bonsai maple
and Saint Henry the pebbled stream.
'Galah' flies loudly and prettily through our minds.
'Swagman' is passed from hand to mouth
like a communion wafer, familiar as a Tim Tam.
I wait for Hope's vision of Australian emptiness
and (sure as eggs) it comes
written in copperplate chalk
on the blackboard:
'Vacunt'.
In the last session, Priscilla, Queen of Tokyo
rides out again on a fine moist Sunday morning
through a desert of Japanese advertising billboards.
Explorer narratives never looked so good:
Sturt, Leichhardt, Eyre – three wise drag queens
befrocked cocks on the rocks show the false is too true:
every line of mascara and cluster of sequins counts.
Character is destiny – or is it an androgynous angelic kite?
We all keep some ABBA shit in a bottle.
But, if we're lucky, like Bernadette
we'll find our Bill.

Museum (Mark Roberts)
There should be a label here directing my thoughts, a catalogue
to read while I make my way  to the underground platform —
here you have crossed an historically significant layer
or just to your right behind the tiled wall
are unknown bones possibly human. A history
dug up and reburied without thought.
This is an old station – a picture on the wall
shows it being built at the bottom of a hole.
There is a steam shovel, workers with picks
& lines of horses pulling wooden carts full of rock.
I have to step over the ghosts of men in hats
and lace up shoes to reach the platform,
but I feel them behind me still
as I sit on a wooden bench waiting.
I hold a book to hide my face and shut out the roar
I read of how:
the box heaved a little
and of how:
the cat took a long time to drown.
An old man sits next to me, he coughs
and blows smoke into my face.  "Chapell's
heading for the axe, remember Lawry
you're not too young to remember Lawry?"
I put my book
down
and ready myself to talk cricket
but he gets up and walks away.
My eyes wander, escaping to the objects
in the hollowed out station.
I attempt to categorise them
accountants, poets, shopgirls, factory workers —
there's the elderly man in the safari suit
who I saw buy a loaf of bread in Oxford Street
15 minutes ago. He has lost his shopping bag.
My train pulls in and I meet the eyes
of an old woman leaning against the wall
on the opposite platform. She is wearing
a dress that was elegant once — postwar
but is now moth eaten. She looks at me
shrugs and disappears as the carriage stops.
I look back through a sooty window
as the train pulls out into the tunnel.
History is receding, there is darkness ahead.
* 'Museum' was first published in Southerly
Other poems by Mark Roberts on Verity La: ishmael and posthumous
____________________________________________________________
David Gilbey's first poetry collection was Death & the Motorway (Interactive, 2008). Selections of his poems were included in Under the Rainbow (fourW press,1996) and the noise of exchange: Twelve Australian Poets (ASM Poetry, Macao). Some of his haibun have been collected in Downunder Japan and Forty Stories (2012 & 2010, Fine Line Press, NZ). David is a founder of Wagga Wagga Writers Writers, current President of Booranga Writers' Centre and Editor of fourW: new writing. He is Adjunct Senior Lecturer in English at Charles Sturt University. Three times he has been a Visiting Professor of English at Miyagi Gakuin Women's University, in Sendai, Japan and has been a regular broadcaster/reviewer on ABC Riverina.
Mark Roberts was born in Sydney and has been active in the writing community since the early 1980s. He has been widely published in journals,  magazines and anthologies both in Australia and overseas. He co-founded the occasional literary journal P76 in 1982 and set up Rochford Street Press in the same year. In 2011 Mark founded the online cultural review journal Rochford Street Review and he is currently poetry editor for Social Alternatives journal. Concrete Flamingos is his first major collection of poetry.
There will be a Sydney launch of Pachinko Sunset and Concrete Flamingos on Saturday 27 February, 2.30pm, at the Friend in Hand Hotel (58 Cowper St, Glebe). Pachinko Sunset will be launched by Peter Kirkpatrick and Concrete Flamingos will be launched by Anna Couani. Clean Skin Poems, by Lauren Williams, will also be launched by Ron Pretty on the day.
Group launches/readings of the 2016 Island Press publications—Pachinko Sunset, Concrete Flamingos, Clean Skin Poems and Engraft (by Michele Seminara)—will also take place in Wagga Wagga (Saturday 5 March, 2pm, at Wagga Wagga City Library) and in Melbourne (Saturday 19 March, 2pm, at the Dan O'Connell Hotel, 225 Canning St, Carlton).
You can purchase Pachinko Sunset from Island Press or by contacting David Gilbey at dgilbey@csu.edu.au.
You can purchase Concrete Flamingos from Island Press or via Rochford Street Press Bookshop.
Posted on January 18, 2014 by Verity La in Heightened Talk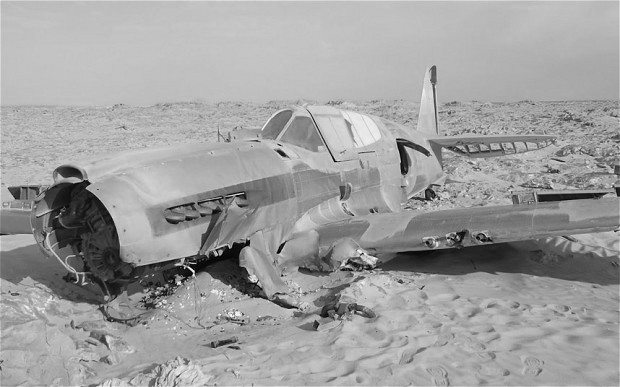 1.
he did show some promise. those early
poems were acclaimed politely but honestly
by the right people & he hoped for meetings
with publishers, small print runs & launches
upstairs with wine and cheese. but he blew
it away, pissed it up against a wall, snorted
it up a nostril. grinding poems to a dust
cutting them with whatever was in the cupboard
& whoosh! even a bad sonnet can get you high.
2.
the dust of poems blew past him.
he can feel them like sand against his face
but they don't form any more – he types
with no ribbon, the keys striking paper
leave an impression but no lasting image.
3.
following the instructions he turns left
at the station exit & heads towards
the pacific highway. the fog is so thick
he can only hear the traffic. truck lights
glow through  like suns from a distant universe,
tail light flashing for an instant – a red dwarf collapsing.
the house lies across the highway
down the ridge on the spiral arm
of a dying galaxy swirling
around a lost poem.
4.
death of the writer. death of the poet.
he is cut in half by a sharp fronted
sports car driving too fast in the fog
of this poem. he sees his destination
blurry in the distant across lanes
with no stop signs. with each step
it becomes less distinct. he step
over a body lying on the road
& decides to turn back.
5.
flying over his life he places a grid over his poems,
a forest there on the left but everywhere else
a desert. this is no place for a forced landing
but the left engine splutters and dies. the pilot
leans back and shouts we 'are going down'
& he hopes they can avoid the political poems
near the hill – they could rip the fuselage open
with their subtlety. but with one good engine
the pilot makes a wheels-up landing
on hot desert sand. they have to wait
for the dust to settle before opening the hatch.
the plane is buried deep in sand
& there is desert as far as the eye can see.
the captain must stay with his plane
so he will try & walk out
using a broken compass and a shattered memory.
he set out due south hoping there is poem
just over the horizon.
he remembers how the sun bleached his lines white.
they lay everywhere as he stumble towards the horizon.
above large shadows circle.
6.
how to describe the poet crawling
towards a mirage, hazy words that die
on the page as the shadows grow larger
thinking of the sudden pleasure
of beak on eyeball.
Posted on December 14, 2013 by Verity La in Heightened Talk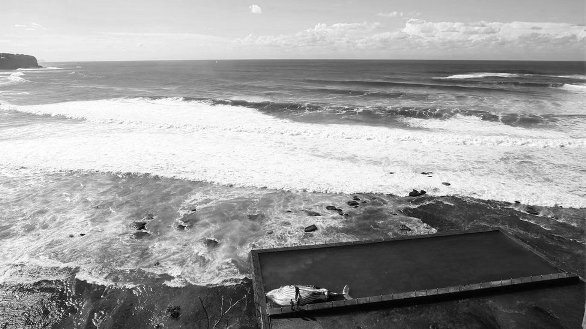 coming at dawn
to swim in the ocean baths
they find a dead whale
half the size of the pool
floating like a cut puppet
fins & tail tugged
by waves breaking
over weathered concrete walls
one old swimmer who has come
to these  baths for years declares
"i'm not sharing my lane with that!"
there remains the discussion
of how to remove tons
of dead whale
without destroying the pool
*
before swimming pools
such a stranding
would trigger a celebration
that would last for weeks
food for everyone
huge fires on the beach
spears treated with whale blubber
bones broken up for tools and shelter.
*
now we wait for cranes
trucks
& chain saws
whale cut to truck size pieces
& dumped in landfill.