Posted on August 1, 2017 by Verity La in Flash Fiction, Lies To Live By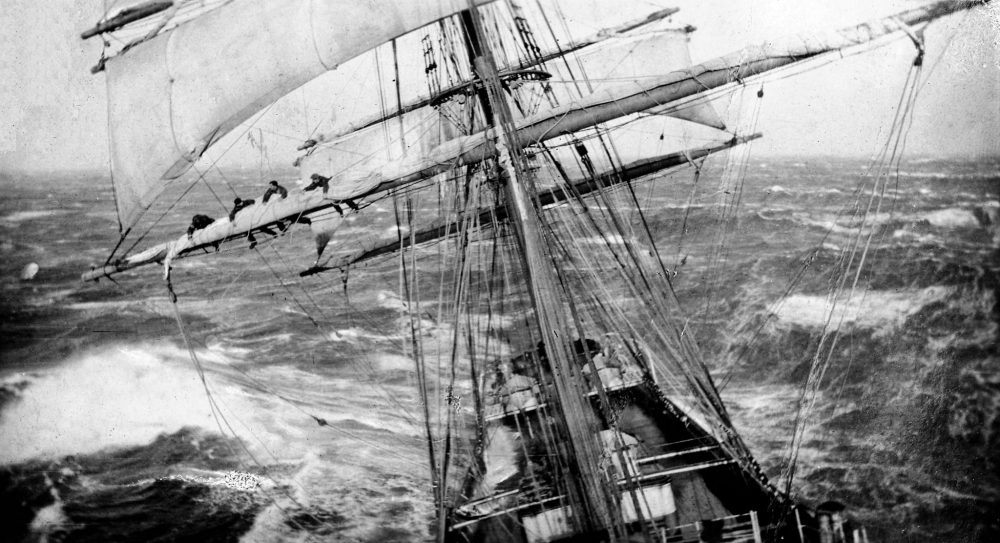 The radio says there's an overnight storm arriving at 1am, so he sets the alarm clock on the floor of his room, beside his mattress in the bare apartment. After twenty years of marriage he was almost back to living in a student share house, but he discovered a cheap one bedroom across town that's as empty as his allocated car park. He knew calling it quits meant financial disaster, now he's renting for the rest of his life. He needs time to find his feet and he'll find them soon, a lie that he's telling his kids.
The storm driving in is meant to get wild. It's been weeks since the last one hit. He's been trying to keep busy with twelve-hour shifts and watching dvds on the laptop. He barely earns enough to contribute to school fees, meet rent and buy fresh food. It takes a month of saving to go on a date because he pays for her meal like a gentleman. Is this what he chose, this separateness, a life he can barely afford? Travelling is out, so he rides each storm, like the one that's coming in tonight.
His alarm starts squawking like a pirate's macaw, so he slaps it in the face. What he's about to do might be an ancient pastime, which makes him feel less pathetic. The gale is battering every angle outside, beating windows in aluminium frames. The gutters are clogged and the rainwater falls, splattering on the concrete beneath. He's half asleep as the storm hauls the trees, a branch scraping the corrugated fence. A new world has arrived that doesn't cost a thing, so he lies there just like he's practised.
He imagines he's travelling in the bowels of a ship, as if everything led to that. He's on an adventure, far off the coast, in a liminal wave of chaos. He's alone but seafaring, lurching along to a destination that's bound to come—the eye of a storm, the ocean bed or calm water with a fine horizon. Wherever he's going, something is happening and he's been waiting for something so long. Tonight it's as if he rebuilt his life, going places after years of coping.
He stays in that ship as long as he can, before the storm passes and sleep returns, before morning and the choices he'll have to make, like what he'll cook just for himself. One day he'll remember that man on the floor imagining beneath the covers. He'll have company then, a new wife perhaps or maybe an irregular lover. No one will know that he'd wake at night while his kids across town slept through. But there must be others in their own low ships, with only weather and a way to be.
____________________________________________________________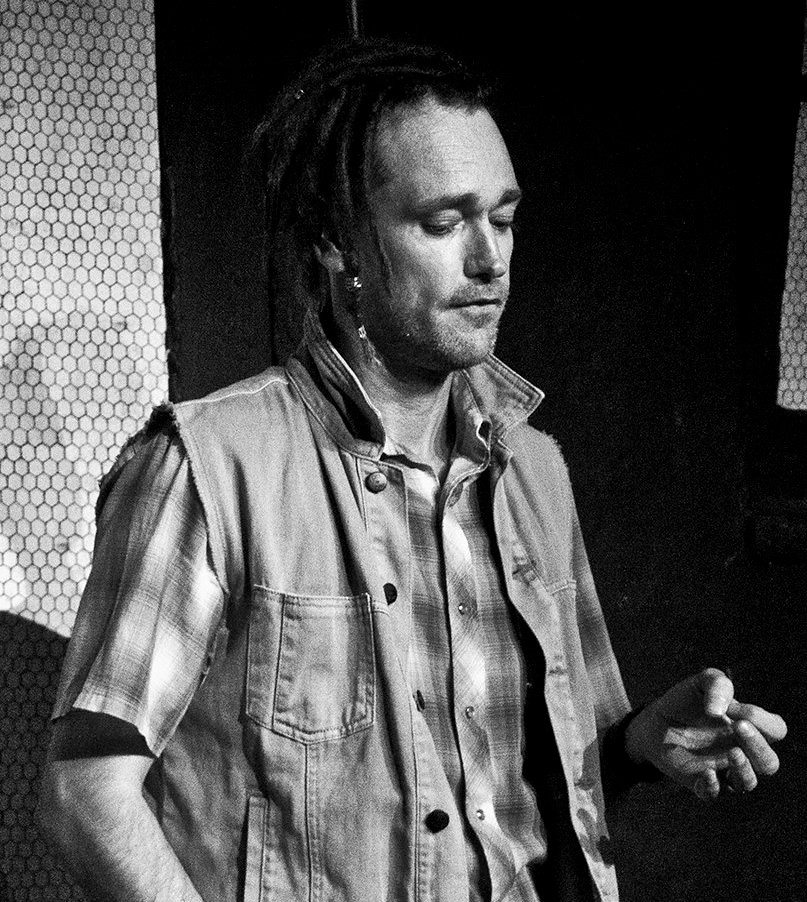 Nathan Curnow lives in Ballarat and is a past editor of Going Down Swinging. His previous books include The Ghost Poetry Project, RADAR, and The Apocalypse Awards (Australian Scholarly Publishing). He has won numerous prizes and appears regularly at festivals across the country, although he is often thrown by his notes.
Posted on February 19, 2013 by Verity La in Verity La Reviews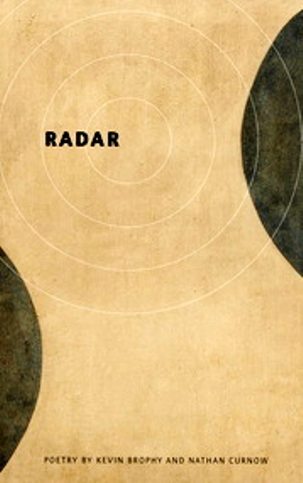 Review by Lucy Alexander
Imagine you're browsing the bookshop and you pick up the slim volume of Radar, with its cover the colour of vellum and the concentric circle pattern around the title the first clue that there is more in your hand than one book of poems.  There is one title, but two authors – 'Poetry by Kevin Brophy and Nathan Curnow'  – and just there, for a moment, you might imagine two heads bent over the one column of words.  Poets working together?  Would that make the poems better – two minds bent to the same task of meaning making? Or would it be more like poetry by committee, flattening out the oblique angles of expression?
In reality Radar is – as the back cover makes clear, once you turn the volume over – two complimentary collections of poetry sewn together into one book.  Perhaps the reason for this is financial, for Walleah Press to spend less on the print-run and pack more poems into the $25 volume.  Perhaps it also has something to do with the way these two voices balance one another:  Nathan Curnow's 'conscious confessions' as he calls them, attaching lifelines to Kevin Brophy's already rescued 'unconscious waking dreams'.
In this back-cover paradox lies something at the centre of these two collections: the poets have worked together, but also apart, as their subject matter and technique show.  The poems of Radar call and answer one another.  The poets know and like one another and are excited, happy even, to have their poems displayed together – as it were.  Like visual artists in a gallery.  Yet somehow the book is a more permanent arrangement. The two collections in Radar will be bound up together well into the future.  Will the names Brophy and Curnow come to be associated, even when the poets are tired of the comparisons?
The title Radar also suggests the other; radar is an object detection system, technology that seeks out the unknown, or tracks the otherwise inscrutable.  So somehow, before we've even opened the book or tasted one poem, we see that the poems are blips on the horizons of one another.  That Brophy's 'radar' picks up Curnow's, and vice versa.  The two poets' works sit finely balanced on some fulcrum just before page 60.
Curnow's collection appears first.  The impulse here is over-archingly autobiographical, often tongue in cheek, venturing from family poems to flights of fancy that spark and crack with incisive originality.  Brophy's is more academic in flavor; the poems often have at their core some research, some moment in time that illuminated Brophy's imagination and set his mind slithering though the laneways of possibility.  While Curnow seems to sing, perhaps Brophy whispers – when someone whispers you are more likely to believe what they say.
Curnow's Radar also displays a wit and cheek.  'The Telepathy Poem' – should I spoil it? No, look for yourself on page 35. 'Norman Lindsay upon Visiting the Ballarat Art Gallery' and 'The Midwife'.  But he also displays a more thoughtful and almost prayer-like mood in 'Blessing', 'The Curtain', and 'Gently Against the Grain'.  These latter poems are complex, musical, textured and require the reader's considered attention.   And yet, they are also highly accessible, their secrets and wonders wrapped up in the imagery that Curnow does so well.  Like here, in 'Blessing', which opens:
It came rushing towards me across the paddocks
all I had to do was stand – the moment roaring
silent and ancient, collapsing into bloom.
And for that image the silence can roar and the mysterious 'it' can remain just as it is, because all at once it is the poem, the gift to the poet, it is the realisation, it is that 'blessing of existence', the thing that we will not name 'God' or 'Death'.  And here, it seems, Curnow really stretches his poetic wings.
Curnow's work together reads somewhat like a musician's album; there's even a 'Bonus Track' (a prose poem 'Made from the Matter of the Stars' that charts the unfortunate quest of a young man to know why there aren't more aliens in the Bible, family violence, isolation and broken promises).  Curnow's collection has that shape, and its reference points, when they are not personal (many of the poems are dedicated to friends and family, for instance: for my bee keeper father, Rev. E. A. Curnow  for 'Hives', even: for Kevin Brophy, 'I Shoot You At The Pond',) they are musical: After Earth Dance flute and piano by Ross Edwards  for 'Toward the Harbour and Out' and the dedication is a quote from 'Elvis Presley Blues'. So Curnow's collection is framed by these music-related parenthesis; they invite not simply reading but also listening.
Brophy's Radar is longer – his collection is 68 pages to Curnow's 46 – and each poem is knotted and complex.  Here, the poems are longer, the words more often stretching to the margins and settling to the edges of the pages.  But they are a delight to read, as they untangle from what might at first seem intractable knots and open to reveal intricacies of learning and humour and shapes leaning against one another in perfect balance.  As you read your own knotted brow of concentration is rewarded by a smile of realisation.
Where Curnow references music, Brophy's are multiple, academic, wide-ranging reading and travel and phenomenology, aphorisms and other people's stories – not so much his own. In 'Report on the Phenomenology of Post-Death Experiences', Brophy's tone is convincingly academic – the dry report of the overseers of the 'transition to eternity' ending with: 'We suggest wider questionnaires across a greater sample at a larger number of gates.'  But then, he shows how adept he is at writing the memorable line: In 'Flicker': 'Those fallen branches are the images of sound.' Or, in 'Thirty Six Aphorisms and Essays' (perhaps in reference to Baal Shem Tov?): 'The shadow, it is avoiding the terrible light.  The light, it fears only the shadow, which is its secret home'. And 'The Secret of a harmonious life: explain everything to your dog and nothing to your cat.' These are just a few examples from a collection that has many of these twined and twisted into it.
What Brophy achieves in Radar is an incredible sense of trust between the reader and the poet.  His strength in the many aspects of life and writing he explores is that he never lets the reader down.  Each poem upholds the poet's intention, and as you read you are held in thrall of this whispering voice that is as convincing as it is poetic, as deft with the words as it is with the concepts it is handling.  At the end of the collection, when poems are called such things as 'Hamlet at Burham, Boiling Skull and Winding Staithe' you find yourself reading on entranced, even for 'Gaudi Gaudi Gaudi', because you trust Brophy now, he is in full charge of your mind.
So, perhaps now you've had a good look at the volume, flicked through the pages and examined the weight and texture of the poems, you should take it home to spend more time with.  Or buy it for the type of friend that you'd like to be collected in a poetry book with, because 'Each thing can only be explained by referring to something else.  We know that, it doesn't take a lifetime to know that' (Brophy, 'Carrying Things Across the Room' p103).
Radar
Kevin Brophy and Nathan Curnow
Walleah Press, 2012
130 pages, $25.
Posted on October 30, 2012 by Verity La in Lighthouse Yarns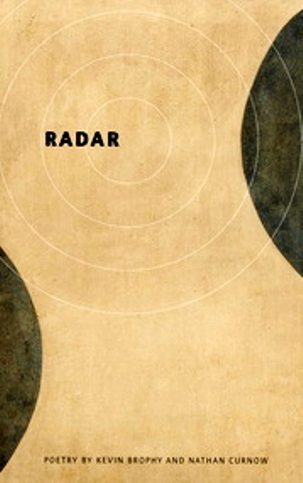 More and more it's being reported that poetry is experiencing a resurgence, primarily due to the form finding a home – or endless homes – on the internet.  Poetry seems to suit blogs, online journals, even in the social-media space (amongst the torrents of Facebook and Twitter drivel it's always a pleasure to find some carefully crafted words, or tips on how to find some).  Although no one's yet collected the statistics, an increasing number of people might be experiencing poetry, which can only be a good thing. Long-live the creative wordsmith.
Two poets who should be at the forefront of this resurgence (if they're not already) are Nathan Curnow, a regular here in Verity La Land, and Kevin Brophy – we can all thank our lucky stars that they've recently co-authored Radar (Walleah Press 2012).  Astute readers will remember that we published Brophy's 'Flicker' and Curnow's 'Blessing' in August and September 2012 respectively.  Go on, grab yourself a copy – you won't regret it.
Nathan Curnow is a poet, playwright and performer who has toured Australia and New Zealand and been heard widely on ABC radio. He is the author of The Ghost Poetry Project, a collection of poetry based upon his stays at ten haunted sites across the country and released by Puncher & Wattman (2009). He has also won the prestigious Josephine Ulrick Poetry Prize and co-edited the 30th birthday edition of literary journal Going Down Swinging. Kevin Brophy teaches creative writing in the School of Culture and Communication at the University of Melbourne. From 1980 to 1994 he was founding co-editor of Going Down Swinging. In 2005 he was awarded the Martha Richardson Medal for poetry. In 2009 he was co-winner of the Calibre Prize for an outstanding essay.
Interviewer: Nigel Featherstone.
INTERVIEWER
Congratulations on your joint collection Radar – it's a truly wonderful read. How would you both describe the book?
CURNOW
I like to think it's an attentive book, from my collection of poetry to Kevin's collection of prose-poems, two different forms and styles scanning memory, dreams and experience through language. We didn't set out intending to come at it from different angles, but I'm so pleased that it turned out the way. Perhaps my work monitors the open skies while Kevin's searches the ocean depths.
BROPHY
The book fits us between its covers because I think we are both poets driven by a lyrical impulse, interested in pursuing narratives-of-feeling, both of us schooled (though in different eras) by Melbourne's performance scene, and both committed to a poetry of plain speaking. The book is most definitely two books for the reason Nathan suggests: the forms are very different. Free verse has its own modern tradition now, especially in English poetry, and Nathan exploits it, revels in it. He knows how to make a line work, and how to bend a line ending. There's none of this in the prose-poems, which are visually not-poetry, and work much more as mental swirls, as clouds posing as paragraphs, slightly exotic as a form. Both of us, though, I think, head out into fiction at times…
INTERVIEWER
How did the idea for the book come about?  Was it along the lines of 'I've got some poems, you've got some poems – let's do this'?  Or was there something deeper going on from the very beginning?
CURNOW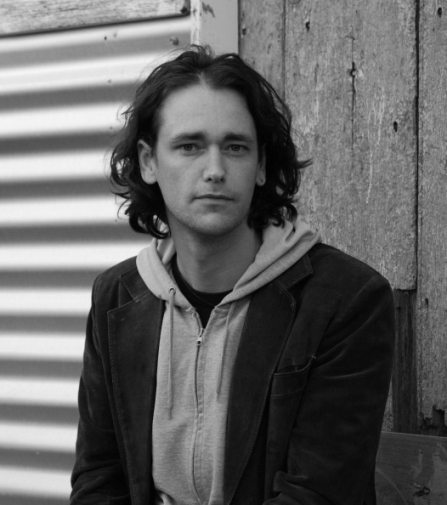 I guess the deepest thing going on is that we're mates and have liked each other's writing, and approach to writing, for some time. I had been sitting on a number of poems when Ralph Wessmann from Walleah Press approached me with an offer of publication. What I had amounted to about half a collection so I made the suggestion of a 2-in-1 book. Thankfully Kevin jumped at the opportunity, which was a real thrill seeing that he's been instrumental to my development over the years. I don't even think he had anything written at the time, and we didn't look over each other's work until the latter stages. All I knew was that he was heading to Europe and had promised to write, which was enough for me. It's kind of like if the film director Terence Malick says he's happy to work with you. The only answer is 'Wow, let's do it!' and then you figure it out as you go.  Perhaps Kevin could speak about the process from his end, because I think he was exploring a different approach to how he usually works.
BROPHY
I believe that Ralph and Nathan were looking for a female Tasmanian poet to partner Nathan with the book. And somehow they stumbled across me. I liked the idea because I did want to try writing a book in a creative frenzy, over about six months, and knowing Nathan's work I knew he would be both professional and lively. I was relieved when I read his first draft, to see that he had taken an autobiographical approach to his collection, while I had taken a more 'fictional' and speculative approach to my little paragraphs. I was pleased to see that the two halves would be different enough, and both hopefully engaging for their own reasons. Of course there was something deeper going on and that might make the reading of the book a little more interesting and unsettling than many poetry collections.
INTERVIEWER
Radar certainly is more interesting and unsettling than many poetry collections. Two themes that have emerged so far in our interview are the notion of autobiography and the slip to and from fiction.  I wonder if you could expand on these elements of the work.
BROPHY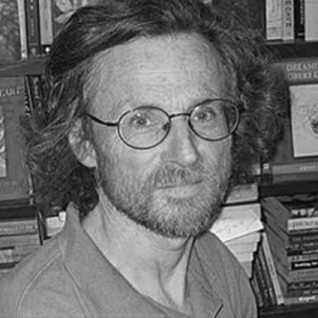 One of the great twentieth century poet-eccentrics (later adopted by the Language poetry movement), Louis Zukofsky, wrote that 'the test of poetry is the range of pleasure it affords as sight, sound, and intellection.' That's ok, and as poets we want to 'afford' our readers those pleasures. But they are not the full range of pleasures. The critic Kenneth Cox, an admirer of Zukofsky, finally decided that with Zukofsky 'What is lacking is afflatus'. He meant 'the breath of life that sends a thrill down the spine and gets engraved on memory'. Whether it is autobiography or fiction does not really matter; what matters is whether the body and its breath are in the work, along with those other pleasures poetry can afford its readers. Nathan's work heaves with afflatus. One of the reasons I pushed out of the line into the paragraph was to get at that part of me that brings the world and its afflatus into the words. I would be pleased if our poetry looks unsettled, and even more pleased if the poetry is unsettling.
CURNOW
As Kevin says, the line between autobiography and fiction doesn't really matter, what matters is the strength of the piece, how it works and conveys. Although much of my work uses autobiography as a launching off point, I don't primarily write to tell people about my life, because I know that writing can never give the whole picture. Poems are inadequate frames and writing demands twists and turns which askew everything. Still, much of my work in Radar presents as autobiography which I'm not particularly comfortable with at times, and it's the reason I've included the poem 'To the Google Earth Tracking Vehicle', kind of warning the reader that while I'm trying to be honest, it's also just a pose and can't escape being that. So the line is hazy and complex, and what matters most is the 'full range of pleasures' for the reader that Kevin refers to. This is why I'm so excited about the direction he takes in Radar, because he's still showing me how to write about life in new ways. His pieces are full of strong images and a deceptively simple tone that presents characters we can all relate to, ones with obvious failings. They are portraits that speak honestly and intimately about others, about all of us, and so therefore, indirectly, about what Kevin does (and perhaps doesn't) know about himself. I like that you refer to it as 'the slip to and from fiction', Nigel. It's so slippery that it almost becomes a non-issue.
INTERVIEWER
What hopes do you have for Radar?
BROPHY
This is the toughest question. I hope that Radar grows up into a fine classic book without feeling it has a split personality or a repressed side of itself that won't stay repressed. I hope Radar has a large extended family of readers who get together once a year to talk about it. I hope Radar gets to talk with critics and other books along the way, and that in its retirement, when it is hopelessly out of copyright and looks like something left over from the era of ink and paper, it can hold its own at the bar and sink a few with those old-timers who are still on their feet. I hope that it doesn't get too garrulous with age, and always knows when to turn the other page.
CURNOW
All of the above from Kevin. I hope the book is returned to over and over. I hope its owners read it to people that they love and that it inspires them to write. Plus I sent a copy to Missy Higgins, who I've never met, so I hope she likes it too.
*
Radar can be purchased by visiting Walleah Press.
Posted on July 3, 2012 by Verity La in Lighthouse Yarns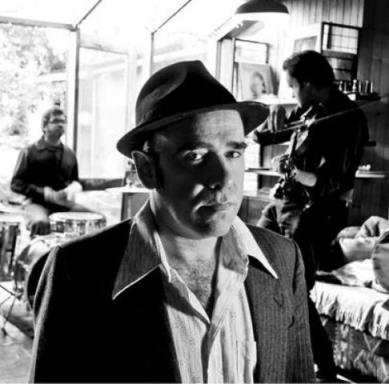 Poet, performer and DJ, hardly covers it when introducing Sean M Whelan.  He is convener of the famous Melbourne open-mic night, Babble, and co-inventor and curator of the popular Liner Notes gigs. He is also the spoken-word front-man of The Interim Lovers and author of Tattooing the Surface of the Moon (Small Change Press, 2008).  Nathan Curnow asks him about poetry, performance, keeping cool, and about which of the Rolling Stones he'd let eat his brain.
 INTERVIEWER
So Sean, no questions about writing routines, your writing space or where you find ideas, just some straight up talk about life as a performer. To me you're the hardest working man in Spoken Word, rarely a week goes by when you're not on stage with either Isnod or the Interim Lovers, add to that festival appearances, Liner Notes, plus your Super Poets gigs. I guess I'm in awe of how you do it, how you live it so consistently, seeing as I find the prep and lead up of just one gig a month totally exhausting. I've been reading a lot about the Rolling Stones lately and I found this quote from their ex-manager, Marshall Chess. I'm interested in your reaction to it.
Marshall Chess: 'The blues guys not only needed $s, they need the applause of fifty people even if it was only in a small bar. The Stones love that shit. Because the feeling on stage is like being held in your mother's arms.  It's the power. The only time they feel alive is when they're on stage.'
WHELAN
Marshall Chess talks about need and power in terms of live performance and I can certainly relate to that. I was talking to somebody recently about playing Australian Rules football when I was a teenager and how much I really miss that, sometimes. In fact, I dream I'm playing football quite often and it's always quite exhilarating to me when I do and I'm a little disappointed to wake from it. There was something I got from football that I don't get from any other part of my life now. It was the combination of the rush of adrenalin and physicality and achieving something through camaraderie. The closest I get to the rush I got from football now is through performing live. Especially when performing with music, either with The Interim Lovers, or Isnod. I wouldn't say the only time I feel alive is when I'm on stage. But when I'm on stage, that particular feeling of being alive is unique to that experience. There's nothing else quite like it, that's for sure. And I don't always mean that in a good way.
It's about being inside that moment for the duration of the performance, but it's also about being outside of it at the same time. The inside element is about being true to the poem. It's your chance to deliver the poem exactly as you intended it to be heard, and that's a privilege. My favourite performers are the ones who treat that as a privilege.
The privilege being that, as the performer and simultaneously, the creator, you get to deliver every nuance and cadence and rise and fall exactly as you intended it when it ran through your head as you were writing it.
The outside element is being aware of your effect upon a room. Having that spatial awareness of the impact your voice makes as it traverses a room. Picking up on the audience reaction is a skill that the best performers have.
Also adding to the adrenalin rush of performing are the dreaded unknowns. What exactly is going to happen up there? Will the audience shut the hell up? One of the most humiliating things for a poet is to perform to a room full of people who are ignoring you, or deep in conversation with each other. Musicians have to deal with this all the time, but it's different for poets, because in most cases it's just you and your voice, you don't have music to cushion the blow of being ignored. The naked voice demands attention and respectful silence, without it, the poet tumbles into the FAIL abyss. There are other unknowns too. My greatest source of anxiety (and adrenalin) as a performer is when I do material from memory. Will I remember everything? This causes me so much anguish. It's amazing what nerves can do to the mind. It's a totally different situation performing your poem in your bedroom at home to being on stage in front of a room full of people and sometimes words just… disappear. The trick is to keep your cool, don't lose your bottle, be Fonzie. The audience usually don't know your poems that well that they'll probably even notice if you skip a line. So when you forget, wait a second, if it doesn't come, then move on to the next part. Of course that's easier said than done, because when I forget a line I feel the prickles on my forehead and the cold sweat breaking out. I have had some terrible times on stage, due to the unknowns turning into an unexpected and unwanted direction. But I've forgotten most of them. None of them have ruined me, yet. And the triumphs fortify the soul, at least for a night.
 INTERVIEWER

Jeez, I could wrap the interview up right there.  There's so much in that.  Spot on.  Hey, if I appeared in your football dreams what position would you play me?  And remember the time I asked you to choose your top seven poets, the ones you would take to save a town like in Seven Samurai?  Well in terms of the 'naked voice' alone, nothing to do with their writing or performance skills (although I know it's hard to separate all that), whose voices do you like at present?  Because it's such an important element don't you think?  Whose vocal chords do you find instantly appealing?
WHELAN
Oh, you wanna be in on my football poetry team? You'd be a star recruit, Nathan. I reckon I'd put you in the forward pocket. I see you as a kind of Chris Johnson like figure (ex. Fitzroy/Brisbane Lions). A dazzling goal sneak confounding opponents with supernatural skills and the cunning instincts of a fox, (a fox who knows his way around a football and the odd turn of phrase.)
Now, voice? Yeah, that's something I get off on. I remember a few years back I was at a spoken word festival in Montreal, the Festival Voix d'Amériques, and they had a late night open mic going. 90% of it was in French. I don't understand a word of French but I really enjoyed going along to it every night just because of the voices. You can get a lot from a poem just from the way it sounds. The heart of the poem's intention can sometimes be completely communicated just through tone and delivery. It also helped I guess that French is a very sexy language.
One of my favourite poetic voices is a North American writer/performer by the name of Anis Mojgani. Mojgani would be widely considered a Slam Poet. I first saw him at New York's Bowery Poetry Club, I think he's relocated to Portland now. I find that North American Slam Poetry can be a little formulaic sometimes, in its delivery anyway, if we're talking about voices. The poems often start off quiet and then slow build into a loud rant of some description. What I love about Mojgani is that he doesn't really follow that formula. I find it hard to describe exactly what it is I love about his voice. It has this unique gentle earthly elegance about it. He has a brilliant sense of pace and timing too, which is very important when it comes to reading work aloud.
 INTERVIEWER

Hey thanks for putting me in the forward line.  Time to have a break soon and suck on some orange quarters.  But before we do that, thanks for the lead on Anis Mojgani.  I hadn't heard of him before so I've been checking him out.  I love how he saves this poem when he breaks down and forgets it halfway through.
http://www.bing.com/videos/search?q=Anis+Mojgani+youtube&docid=1576435581698&mid=9B52707F90B1BBB853709B52707F90B1BBB85370&view=detail&FORM=VIRE1
And yes, French is a sexy language.  But yeah, it's hard to pin down what we like about certain voices.  I think essentially it comes down to breath.  The most compelling voices seem to have mastered that somehow.  I often think of Ginsberg's quote about Bob Dylan:
'He had become at one with, or became identical with, his breath. Dylan had become a column of air so to speak, where his total physical and mental focus was this single breath coming out of his body. He had found a way in public to be almost like a shaman with all of his intelligence and consciousness focused on his breath.' Allan Ginsberg, 2006
We could talk more about that or about 'formulaic' Spoken Word but you know I can't let you get out of here until we discuss love.  Your work often focuses upon it, as well as memory and loss.  To me you are the quintessential voice of Melbourne heart and heartbreak.   Tell me about the first love poem you ever wrote.
WHELAN
I can't really remember the first love poem I ever wrote, although it was probably contained somewhere within the first love letter I ever wrote to a high school crush. I don't remember all of its contents now (thankfully) but I do remember some of it being extremely cringeworthy—something about living without you is like living without air. I like to think that my love letters and poems have improved since then.
One of my earlier love poems that I'm still quite fond of is a piece called Elvis Tears. I think I was reading a lot of Raymond Carver at the time so his influence is stamped quite clearly upon it. The setting is a man and a woman sitting inside a car. They're very close friends but he has just confessed to having strong romantic feelings for her and it hasn't gone as well as he hoped. He is dropping her off at her house and he is concerned that perhaps there is a new lover waiting inside for her. He really doesn't want to lose her. It starts raining and she tells a story passed onto her by her mother about the rain being the tears of Elvis Presley falling down on us all. "That man will never stop crying."
I heard it said once that all poems are love poems. And really, what other reason is there? Love is such a powerful force and universal source of motivation behind most things we do, that even the act of not speaking of it, becomes an act of love in itself. The absence of love, becomes a lament, without even trying. Or maybe I write so many damn love poems because I've been so chronically unsuccessful at it, maybe it's the equivalent to taking a watch apart in a desperate attempt to find out how it works? I don't know. I don't really know anything about anything and least of all about writing. I came into the game pretty late I guess, at least professionally speaking. I started writing when I was in my early twenties but I only really showed it to friends at first.  They all liked it, but I didn't really believe them. It was mostly pretty generous portraits of them, so they would say it was good! It took me quite a while to get my writing out into the general public. I've been plagued by self-doubt and a general lack of confidence most of my life. I think I was past thirty when I did my first reading. But even after all this time when I sit down to write it still fills me with dread and fear. The fear is not really knowing how this shit works. I don't subscribe to the theory of only writing when 'inspired', you have to just sit down and do it, like a job. But writing to me, is like turning up to work every day and not knowing if you'll get your heart broken or not.
 INTERVIEWER

From your answer here alone I think it's safe to say that you know more than you think you know, especially about love, lament… and watches.
'… even the act of not speaking it becomes an act of love in itself…'
Your line above reminds me of something the character Lucius Hunt says to his mother in Shyamalan's The Village. (A good movie overall despite some flaws, but I don't care if you like it because you didn't even like Hugo!!!)
Alice Hunt: And what makes you think that he has feelings for me?
Lucius Hunt: The way he never touches you.
The smallest gestures can be the most powerful/telling, and sometimes the absence of those gestures says just as much.  It's all related.  So I'm glad you mentioned Elvis Tears because the poem is full of these small moments.  I love listening to how you craft things.  It's a beautiful portrait loaded with ache and yearning.   http://www.myspace.com/seanmwhelan/music/songs/elvis-tears-38204795  Finally, I want to mention the Rolling Stones photo exhibition we both went to last night. I'm glad you came along because the portraits were cool but some of the showbiz types at the launch were intense (ie. business cards, close talking and the constant referencing of their past productions). And when they invited us to go to their monthly showbiz lunch I half suspect they were asking if we would like to be their lunch.
So my last question is on a lighter note… if all the Rolling Stones turned into Zombies which one would you like to eat your brains? I'd have to go with Charlie Watts because he's always looked like he could use a good feed.
WHELAN
Mmm, well I probably would have immediately said Keith Richards, just because he's… well, he's Keith Richards! Right? But Keef kinda pissed me off a little after I read his biography, which is mostly a brilliant read, except for the part when he dropped a rock on the shell of a snapping turtle, because, he claimed 'Goddamn, it's you or me, pal.' Really Keef? A turtle was that much of a threat to a gnarly old rock and roller like you? In fact after reading Life none of the Stones come off appearing as particularly nice except for Charlie! But I think in a pinch I'd choose Mick Jagger as my zombie brain-eater because I'm hoping that those big luscious lips may cushion some of the pain of having my brains sucked out of my skull. Happy?
Posted on February 13, 2011 by verityla in The Melbourne Review Interviews
ALEC PATRIC
Everyone knows Nathan Curnow, nationally acclaimed poet. Tell me about Nathan Curnow, the playwright.
NATHAN CURNOW
I've been writing plays for as long as I've been writing poetry, and it's been a similar road in many ways.  My play-writing career has all come down to a lot of hard work, a degree of luck and making my own luck, plus a ridiculous amount of backing from a few key believers.
I still remember handing my first script over the fence to my next door neighbour, Kevin Hopkins, who happened to be an actor.  I had no idea if it was any good, so he got his buddies together and put on a reading of it at La Mama. (I didn't even know what a 'reading' was at the time).  The play then gained the support of Greg Carroll and the two of them put on my Dizney on Dry Ice at the Carlton Courthouse as part of the 2006 Melbourne International Comedy Festival.  I've worked with them both ever since.
Following that one, a play about stealing the cryogenically frozen head of Walt Disney and holding it for ransom, I wrote a lot of other crazy stuff.  Plays about talking fish, indestructible cats and the second coming of Houdini, to an absurd comedy titled Mystery in a Blimp.  Many of these were ten minute pieces that have featured in short play festivals around the country, because as a poet I became very interested in short form theatre and what it could do.  But I've recently returned to writing a feature-length work with the assistance of the Australia Council.
ALEC PATRIC
Does poetry play much of a part in your playwriting? And vice versa – has writing for voices, bodies and the stage had an influence on the poetry?
NATHAN CURNOW
For a long time writing poetry and plays seemed quite separate to me, just because I was asking different things of them.  I wrote plays to be stupid, for silly dialogue with crazy ideas and tangents.  Comedy has its own demands of course, and writing gags is hard, so it's not that I found one form/style more liberating or demanding than the other, there was just little crossover in terms of language and subject matter at least.
It took me a while to consciously realise how common the forms are.  It was while I was going to a lot of short ten minute plays that I saw all the elements playing out in front of me.  I realised that a short play was a kind of poem, and I had to balance all of its distinct elements the way I had to balance and layer my poems.  So exploring the short forms just seemed to unlock everything.  I'm reminded of Sailing by Kevin Brophy.  Although he's talking about short stories here these lines reflect something similar for me:
"When I took an interest in the theory of the short story everything became a short story.  Every film I watched, every apple I ate, every newspaper article, every science textbook, poem I read — they all had beginnings, middles and ends; everything existed in a curiously reduced universe; even the longest of novels was in truth a short story."
And now I find there's a lot of crossover for me between the two.  At the moment there seems to be a common through-line for me in all my projects, both in terms of subject matter and the way I go about approaching/constructing them.  My poetry and plays seem to be directly feeding each other.
ALEC PATRIC
It might be argued that novels are nothing more than epic poems transformed by the theatre experience. How do you see the novel and is it something you plan on attempting?
NATHAN CURNOW
In terms of how I 'see' the novel, it's much like what you suggest.  I think poets and novelists all have to make similar decisions i.e. what to reveal, when and why; the balancing of the part and the whole; language use; voice etc.  There is that metaphor of writing a novel being like running a marathon, and it is, but all projects are marathons, whether it's a manuscript of poems or a full-length play.  They all have to be raked over again and again, and take years off your life.
So that said, yes, it's something I'd like to try soon.  When I first started writing it was definitely the goal, but now I think I might finally have some better skills and clues to bring to it.  Plus due to some recent interest there may even be a chance to tackle it sooner than I expected.
ALEC PATRIC
I was talking with a short story specialist recently about flash fiction. She's a very successful writer in that regard, but said she'd never been able to write flash fiction. In fact, she said they needed an entirely different 'skill set'. She also said she'll never write a novel, and for her, there's a sense of integrity in this regard. She's a purist and her work has benefitted from it. She does things you simply couldn't do with novels, flash fiction or poetry.
I was wondering whether you might talk about the differences you've found between playwriting and poetry. Have you written much short fiction and what differences have you found working in this medium? I'm wondering whether you might look at the notion of a 'skill set' in relation to what you'll need finally taking on The Novel.
NATHAN CURNOW
I have great admiration for the purists but I wouldn't call myself a purist of anything.  There are times I've written poems and realised later that they are short stories (or could work just as well if not better as a short story), and times I've written short stories and realised they are plays (or seem to want to be plays, in that they exhibit qualities that would cross over). And I suspect most writers experience this with their work along the way.  So I wouldn't say the skill sets are entirely different. There is overlap.
I guess I don't totally understand what the term 'purist' means.  If it means committing solely to writing in one form despite the overlap (though I'm still not sure if that makes you one) then yeah, it's not me.
I guess I'm hesitant when it comes to this question, and I've been trying to figure out why.  I want to acknowledge that there are specific qualities to each form, different 'skill sets' needed, but I'm shying away from saying anything that ultimately defines one form from the other.  [insert illuminating yet sufficiently mysterious metaphor here].  There is the Richard Ford quote which Kathryn Lomer uses in her Q&A with Cate Kennedy in Island 122:
"The form is this: I write it; I call it a short story; it is one.  End of argument — though it doesn't have to be all that short.  I just have to want to call it a short story.  There's no police in this business."
So I have had a number of short stories published… or pieces that I (and others) have called short stories.  And no, I won't be looking at the notion of a 'skill set' when it comes to writing a novel.  I'll probably have the particular skills/demands of the form in the back of my head as I set out with instinct and bloodymindedness.  I won't consciously acknowledge the 'skills' as I begin i.e. putting them up on a white board in front of me, but they will come in to play.  Amid the haze and hard burn of concentration the form I'm working in (or that I tell myself I'm working in) will bring the piece to account, and there will be damning questions I may or may not be able to answer.  There are no givens.  By the end of it I might still end up with something that seems to be more of a play.  That's the thing about projects — you know that you have some clues, and yet despite those clues, despite your dogged direction, the project also has to direct you and you have to be open to that.
It's a known and unknown pathway, and sometimes I'm wary of discussing it too much in case articulating the mystery of the 'haze and hard burn' stuffs it all up for me.
ALEC PATRIC
A 'known and an unknown pathway' is a brilliant expression. Some writers, even after writing five or six novels, still face a crisis with every project. The only thing they have to go on is that they've done it before. I suppose what is known is that we have the experience of travel but the territory (if we're pushing the envelope) is always new, and often hostile. We work out ways to live in deserts and sometimes return with visions of an emerald paradise. Could you talk a little about the pathways you've found and perhaps a little more about that necessary 'haze and hard burn?'
NATHAN CURNOW
I really like your last response. Your 'visions of an emerald paradise'  reminds of the Emerald City in The Wizard of Oz.  Where at the heart of it there is just someone saying 'pay no attention to that man behind the curtain'.
Over the last few years, particularly while writing The Ghost Poetry Project, I have become more keenly aware of how I work.
There must be times of great intensity where I am painfully present, slogging away at the words and ideas, and also times where I have to stop and make room for them to come.  It's a big lesson for any artist to learn, and at the end of the day I have to thank the Australia Council for it.  Through their support I've been able to live as an artist, to have the chance to identify my own rhythms and trust in them.  I trust now that turning off and walking the dog is sometimes the best way to advance a project, even though it's still a mystery how a 15 minute walk can have me brimming with words and connections by the time I return.
So yes, there is always a constant push and pull between what I know and don't know, between instinct and conscious thought, times of fallow and times of hard slog.  All I know is that so far I have been able to identify and negotiate the haze and hard burn of production for myself.  But there are other things to navigate as well: engagement and seclusion, promotion and obscurity, self belief and doubt, narcissism and self loathing.  Any one or all of these things might undo me down the track.
(Photograph by Amy Tsilimanis)
Posted on August 2, 2010 by verityla in Heightened Talk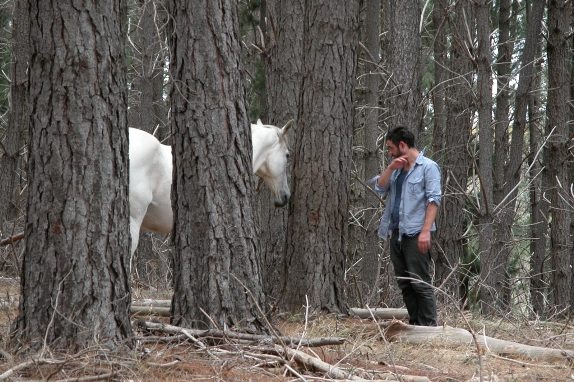 for Kevin Brophy
ideas grow like goldfish
in proportion to the space they are given
you return home from your morning swim
still dripping from professor to friend, breakfast
begins slowly, questions are like muesli, managed
carefully at the kitchen table, believing in seeds
we commit to chewing, holding our spoons like pens
you consider me a poet and I emerge, still rough
after crashing in your spare room, studying the yard
your familiar themes—lemons, pigeons—the cats
pawing at the surface of your garden pond until
you spray them over the fence, a loaded water pistol
at the window sill—silence circles around again
tempted, I imagine you are partly feline, inquisitive
inscrutable, mischievous, your tail curling up like
a question mark, rising with the thrill of potential
so I shoot you at the pond because you ask me to
crouching like that at the edge, fishing for a symbol
as if to divulge this final ordeal of my training
or you are simply watching the goldfish swim
or I shoot you just for fun, we open our mouths
to a pool of silence, my friend, the idea
becoming
(Artwork: 'White Horse' by Miles Allinson)