Posted on January 5, 2012 by verityla in Verity La Reviews
Review by Lesley Lebkowicz
War has always been a subject for poetry – for all forms of literature – in every culture, in every time. It's been examined, glorified, abhorred. Rarely does a writer confess an addicted love of it despite its horrors, as Tony Loyd, a British war correspondent, does. It's possible to think of his work, in its shocking authenticity, as defining one end of a continuum and Susan Hawthorne's fierce and rich polemic as defining the other.
The subtitle of Hawthorne's Valence is Considering War through Poetry and Theory. Her twofold method of verse and discursive prose makes for a visually pleasing experience. Each poem/argument/exploration is given its own page. The poem comes first – generally two but up to four six-line stanzas – sit over a paragraph of two of commentary. The difference between the poetry and the prose is emphasised by a difference in type-face and spacing. Given that poetry is a form we linger over, and that Hawthorne's work here demands reflection, attention to presentation pays off.
Structurally, the verse element of Valence alludes to the complex form of the sestina in its six-line stanza and in its three-line concluding envoi – but that is all. The other characteristics of the form are not used. This makes for a pleasant acknowledgement of poetic tradition without any rigid adherence to it. Many poets these days are happy to play with elements of form as they work within the currents of free verse and this work sits nicely in that context.
Within the book-ends of two three-lined verses Hawthorne offers a dense mesh of imagery in the verse ranging across several instances of military violence. Words are 'slaughtered in the throat', 'widowed ground has been filled with half-grown trees', what 'will it take to unpurse the future'? Images freed from the control of punctuation jam one against the other invoking the terrible chaos of war.
This is the main substance of this work – but not the complete matter: the series considers questions of hope, betrayal, the difficult possibility of putting right the wrongs of war. And more. War is so big a subject, its ramifications enormous; issues arise and spill across the pages. As a feminist scholar, Hawthorne is predictably opposed to war. Some of the prose commentary alludes to her own (as well as others') scholarly work on the subject. She also refers to her own experience in these commentaries and this invites the reader into her material. The sequence is, for instance, initiated by reflections on her grandmother's, mother's and uncle's war experience.
At its best, Hawthorne's voice is clear, striking, impassioned. The sequence begins: 'all day long the gods have been screaming'. Her opening lines are frequently declarations strong in the vernacular: 'revolutions have a tendency to unwind' or are charged with rhythm (here with a Shakespearean resonance): 'undoing hatred is a pilgrimage of hurt'.
As it works its way through its variations on war the sequence moves inevitably towards despair. In the last lines: 'you dream of light . . . /you sob . . . / because nothing will 'stop the clot of war'. It's a hard note to end on. Honest – and hard.
Valence: Considering War through Poetry and Theory
Susan Hawthorne
Spinifex Press, 2011
16 pages, $9.95

Posted on October 20, 2011 by verityla in Heightened Talk
He slides the documents
out of the KGB safe
into an envelope
and settles his future
under his shirt –
its straight edges buckle
against his belly.
He buttons his jacket.
It's the end of the day.
He saunters out the front door
along Canberra Avenue.
Cypresses line
neat concrete paving.
He slows his breath
to breathe naturally
slows his pace
to walk slowly.
At home he shoves
the thick envelope
under the mattress.
For the first time in Australia
he feels like a spy.
Posted on October 18, 2011 by verityla in Heightened Talk
He won't leave until April the third,
the day his successor is due.
He'll tie up all the loose ends
and hand over the codes
the accounts
his notes.
He'll do everything right –
till the end –
just like anyone leaving his job.
He'll be as good as a robot
and maybe Moscow will think
he's an ordinary agent
and defection
is part of his job.
Posted on October 15, 2011 by verityla in Heightened Talk
He buys the lovely stuff duty-free
as a diplomat. The spirits are sealed
in their bottles like genies in jars.
Bialoguski helps load up the car
and they're away. The slosh and gurgle
inside the boxes tempts
Volodya: he liberates one
to drink as they drive round the pubs
where they offer bargains in booze.
The money makes firm wads
in their wallets. Volodya stows some near
his breast where its touch might be
a girl's mouth. (Back in Canberra Dusya
will handle the Embassy's books –
the Ambassador never need know).
Capitalism's so easy.
Posted on October 12, 2011 by verityla in Heightened Talk
Dusya knows she looks good. Western clothes
flirt with her hips and breasts while her blonde hair
curls like a film star's. She sees how men look.
(They may look – but no more).
With each greedy glance her power swells.
Wives dislike her. Their husbands' lust is hers
to spend – if she chooses. The big flowers on her dress
make her look so delicate.
The Ambassador's eyes glide over her.
(All the Embassy knows his last secretary
did more than type).
But when he smooths his hand over Dusya's hips
she wheels around. She's a snake: a viper,
an asp – she hisses him to his dark place.
Posted on October 6, 2011 by verityla in Heightened Talk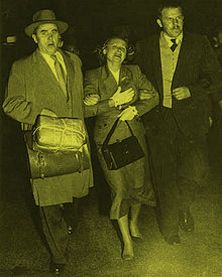 Over the coming weeks Verity La will be publishing a series of poems by Canberra-based poet Lesley Lebkowicz exploring the infamous Petrov Affair.  The poems, 'Canberra', 'Snake', 'Booze', 'A Charm . . .' and 'Done', are from Part I of a manuscript for a verse novel called The Petrov Poems.  In the 1950s the USSR and the West were engaged in the Cold War, a time of fierce political opposition with threats of – but no actual –  direct military engagement.  Vladimir (Volodya) Petrov and his wife, Evdokia (Dusya) Petrova, arrived in Australia from the USSR in 1951 ('Canberra'). Dusya worked as the Ambassador's secretary and Embassy accountant ('Snake'). Volodya, a KGB official and nominally Third Secretary at the Embassy, travelled freely in Australia, especially to Sydney, to establish a network of spies outside the Embassy ('Booze'). He had little success at this.
Volodya defected without his wife ('A Charm . . .' and 'Done').  After his defection Dusya was imprisoned inside the Embassy. The Soviets attempted to hustle her out of the country but she defected in Darwin.  The Petrovs were taken to safe houses in Sydney by ASIO. After the Royal Commission into Espionage, a show trial mounted by the Prime Minister, Robert Menzies, they were granted Australian citizenship and lived in Bentleigh, a suburb of Melbourne where Vladimir worked processing film for Ilford. Dusya was a typist at William Adams Tractors.  In 1990 Dusya's beloved sister Tamara joined her in Melbourne.
Volodya died after a stroke in 1991.
Dusya died in 2002.
*
Canberra
Dusya likes it here: the quiet, the space. They live
close to the Embassy and walk to work through
a silence broken only by birds. She learns their names:
magpies, currawongs, parrots and tiny bright wrens.
Kookaburras. There are few buildings. Grassland
surrounds them – dun-coloured stems
catch the sun. Cockatoos
screech past her ears. Their house is between
Kingston and Manuka where shops
for clothing and food squat close to the ground.
There's a newsagency, a shop for sewing materials,
a furniture store – but no cafés, no restaurants.
Civic has two-storey buildings with cloisters
where in winter the wind from Cooma sharpens the cold
into blades. She shivers. All around sheep huddle
and graze, but in Griffith they have a whole house
to themselves: a whole house and plenty of food.