Posted on July 17, 2015 by Verity La in Lighthouse Yarns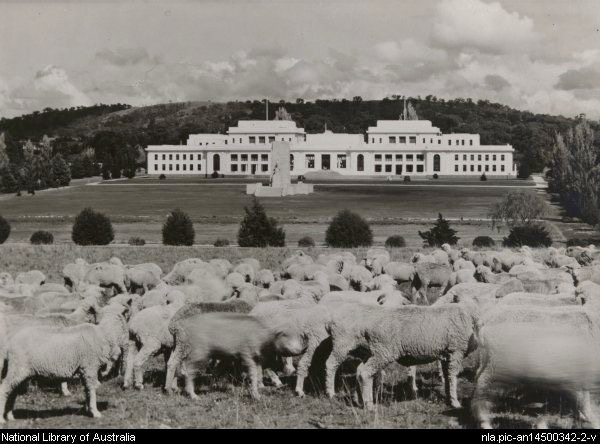 The scholar who admits to taking images on her phone when tipsy. The poet who exhibits his work in art galleries. A little capital city that was boldly designed from the ground up. And the book the three of them have created. No, this is not the start of a joke; it's a very serious business. (Well, mostly.)
Jen Webb is Distinguished Professor of Creative Practice at the University of Canberra and Director of the Centre for Creative and Cultural Research. She has published 18 books, some creative, most of them scholarly, with several translated and republished for Chinese, Korean and Indian readerships. Her scholarly work for the most part deals with art, visual culture, and representation. She also makes and exhibits artist books, incorporating her photographs and fragments of creative writing, and has published and performed her poetry across Australia and New Zealand, and in Canada, the UK and the USA.
Paul Hetherington has previously published eight full-length collections of poetry, three poetry chapbooks and a collaborative book of poetry and digital imagery with Anita Fitton. He won the 2014 Western Australian Premier's Book Awards (poetry) and was a finalist in the 2014 international Aesthetica Creative Writing Competition. He was also shortlisted for the 2013 Newcastle Poetry Prize and the 2013 Montreal International Poetry prize. In 2014 he was awarded an Australia Council for the Arts Residency at the BR Whiting Studio in Rome. He is Professor of Writing in the Faculty of Arts and Design at the University of Canberra and head of the International Poetry Studies Institute (IPSI) there.
What is it that they have created? And why?
Interviewer: Nigel Featherstone
INTERVIEWER
Congratulations on the publication of Watching the World: impressions of Canberra (Blemish Books, 2015). It's a beautifully produced collection of images and poems focussing on one of the world's most intriguing designed cities – in a way it is both a unique coffee-table anthology and an exploration of a place. What was the motivation for the book?
WEBB
The motivation was the Centenary of Canberra, 2013: the celebration of a hundred years since the establishment of Australia's national capital. There's a lovely line in a Dorothy Porter poem: 'Imagine a city/where it's mostly/imagine' (from 'On Reading EM Forster's Guide to Alexandria', in her collection The Bee Hut, Black Inc., 2009). A small group of us here at the University of Canberra wanted to put on an exhibition as part of the Centenary celebrations, and riffing off Dorothy's line, we called the exhibition Imagine Canberra.
Paul and I decided we would do a collaborative poetry + photography piece, works that reflected our own personal and idiosyncratic Canberra(s), and we exhibited these in little balsa-wood cheese boxes, their circular shape mirroring Canberra's endlessly circling roads, and the great circles on the Griffin-Mahoney designs of Canberra. Getting the work together forced us to spend quite a bit of time moving around in, looking at, and thinking about this place: at once our hometown, and the government centre of the country.
We showed the work twice: in the Belconnen Arts Centre, as part of Imagine Canberra, and again at a creative writing conference held at the end of 2013. By this point we had come (a) to really like the ideas in the work and (b) to want to improve it – change the saturation in the photos, for instance; sharpen up some of the lines of poetry; develop it all a bit more.
HETHERINGTON
Jen has nicely summed up how the exhibition and publication got underway, and what we then did. It was a chance to extend my collaborative work with a poet and artist I admire a great deal – and someone who is a very supportive and generous colleague, too. I thought Jen's photographs for this project were wonderfully engaging from the first time she showed me a few of them – representing views of Canberra, a national capital, that were at once intimate, observant, unexpected, and full of the quotidian stuff of the city.
Yet, this was not so much the quotidian doings of Canberra's citizens – although Jen's images do represent those doings in judicious and creative ways. The images captured the quotidian life of the city itself as expressed in buildings, places, monuments, scenes and occasions. There are large views and vistas, and small, exquisite details. Some of the images have a relaxed and deceptive apparent casualness that welcomes the viewer while being sharply observant.
They were superb images to work with as a poet; and posed the challenge: how shall I find words that will have their own life and poetic structures while also complementing Jen's visual imagery, and which will create some sort of implicit dialogue between image and poem? I did not wish my poems to be ekphrastic or descriptive works; I wanted them to be companion pieces; pieces that spoke to what Jen had seen and made; and which saw and were made differently, but in strongly connected ways. The original project title, 'Circles and Intersections', acknowledged this process – of the way we both circled and intersected with each other's work, and its creative imaginings; how we didn't try to find too many straight lines of connection; how we made a book that celebrates the circuitous and lateral connections that Canberra as a designed city embodies and expresses in various ways for all of its occupants – and for visitors, too.
In such ways, the book is certainly an exploration of place; and it is an exploration of how seeing double sometimes has a multiplying effect. Our joined imaginings about Canberra are an attempt to provide multiple perspectives that arise from the nearly simultaneous consideration of laterally related visual and verbal imagery.
INTERVIEWER
The Porter line about cities and imagination seems fantastically appropriate to Canberra, especially when paired with the stated ambition of Walter Burley Griffin, the American landscape architect Walter Burley Griffin who, in collaboration with Marion Mahony Griffin, won the international design competition for Australia's national capital: 'I have planned a city that is not like any other in the world.' I wonder if you both could talk more about the intersection between the urban imagination – or the imagination of the urban – and the visual/poetic imagination. By this I mean, do you believe there is a direct link between Canberra being a place of such imaginative deliberation and how you produced the work in Watching the World?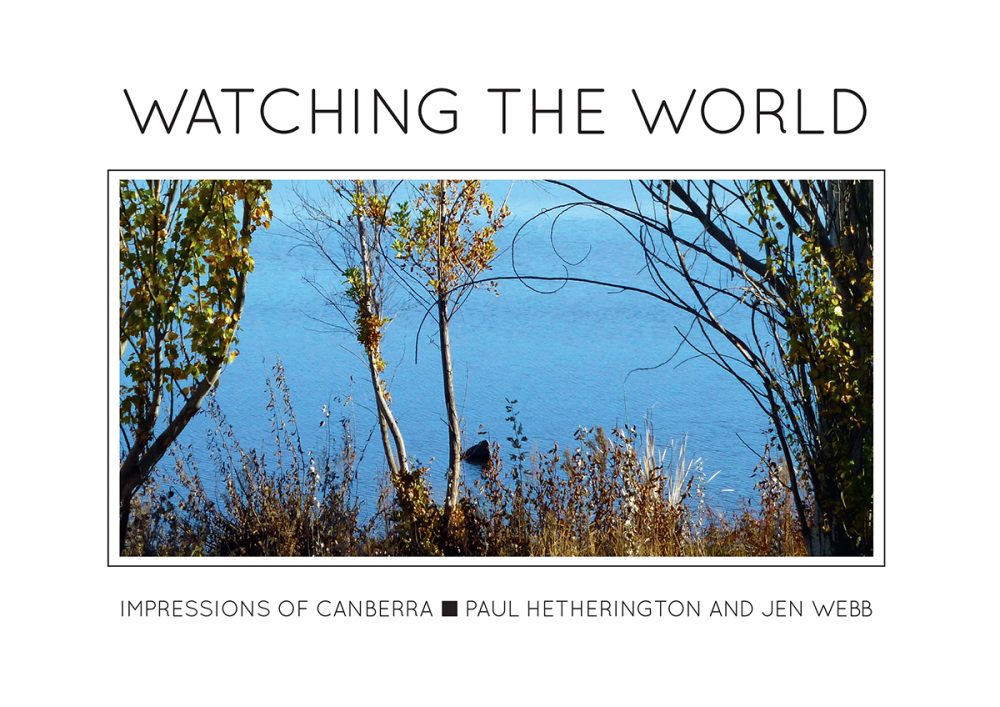 HETHERINGTON
That's a good question, and one that's not easy to answer. This book is a culmination for me of nearly 25 years as an inhabitant of Canberra, and it incorporates many years of responding to the city on a daily basis – responses that are no doubt embedded in the rhythms and cadences of my poetry as well as in its observations.
In terms of the city more particularly, I have always been attracted to poetry, and to art in general, partly because it is made – because it is designed – and I remember when I arrived in Canberra a key aspect of the attraction of this city for me was the attractive strangeness of finding a place that would be a home in the usual informal ways associated with homeliness, while also being conspicuously and rather grandly conceived and 'made' – even if not made entirely in Walter Burley Griffin's and Marion Mahony Griffin's original image.
Exploring the city poetically for this book constituted a re-engagement with what I knew in this way – as a citizen of a city who had carried my impressions of its original and attractive strangeness with me for two and a half decades but who also wished to reappraise it. In doing so, I realised that I'd never relinquished the sense that Canberra was not like other cities and that I enjoyed this idea of its difference (some people criticise Canberra for that – they suggest that it is sterile, or too organised, or what-have-you – but I have always liked the sense of reserve the city possesses). I used this sense of difference as my point of departure for the poems I wrote.
I was also reminded that Canberra is a city that is in the throes of growing up – simultaneously a fully-fledged national capital and a mixture of suburban and semi-rural spaces. Much of its current charm comes from the way the grid-lines of its original design, and the beauty of its landscapes, are sprawling in ways that are creating a more modern, more haphazard place, despite the efforts of planners to control and moderate such development.
Jen's photographs capture this in-between, sprawling moment in our city's life very well and with considerable subtlety, and I love that about them. My poems respond to that quality; as well as to the thoughtful, sometimes playful, sometimes almost quizzical spirit of her work and, as a result, they are about her images of the city as well as about the city as I know it.
I suppose, then, that the poems are written out of an attempt to say, isn't this interesting – to be here; to see a city like this in its current stage of development; to live in a place that's so extraordinary but which I mostly know in a daily, ordinary way and which Jen has helped me see freshly. I tried to find words to speak directly and simply of such things – a complex city's complicated life.
INTERVIEWER
Jen, was this shifting between the ordinary and the extraordinary, as Paul describes it, something that you tried to work with when producing your images?
WEBB
I don't think I ever aimed to shift between the ordinary and the extraordinary. My conscious aim was to find images of Canberra that were entirely quotidian, even banal. If there is a shift to the extraordinary here and there, that's quite likely because the everyday world itself is extraordinary, or at least contains the extraordinary. I used my smaller camera and my phone camera, and deliberately just took snapshots – a shameful thing to do, no doubt, but I had a vague idea that this would allow me to be very ordinary, and to capture images en passant, as it were: not capital P Photos, but the everyday glimpses of the city we Canberrans see, often without noticing them, because they are so very familiar.
Walter Abish has a sort of a treatise on this in his wonderful novel How German Is It (W W Norton & Co Inc, 1980) where one of his characters presents a lesson on the familiar, and how very hard we – or the familiar things themselves – must work to achieve that status. I've always been taken by the idea that, when looked at aslant, everything becomes new and strange. And that because photographs – even snapshots – freeze the moment, they afford a sudden stasis in which we can look again at what has just flickered past our eyes, and in looking, come to see.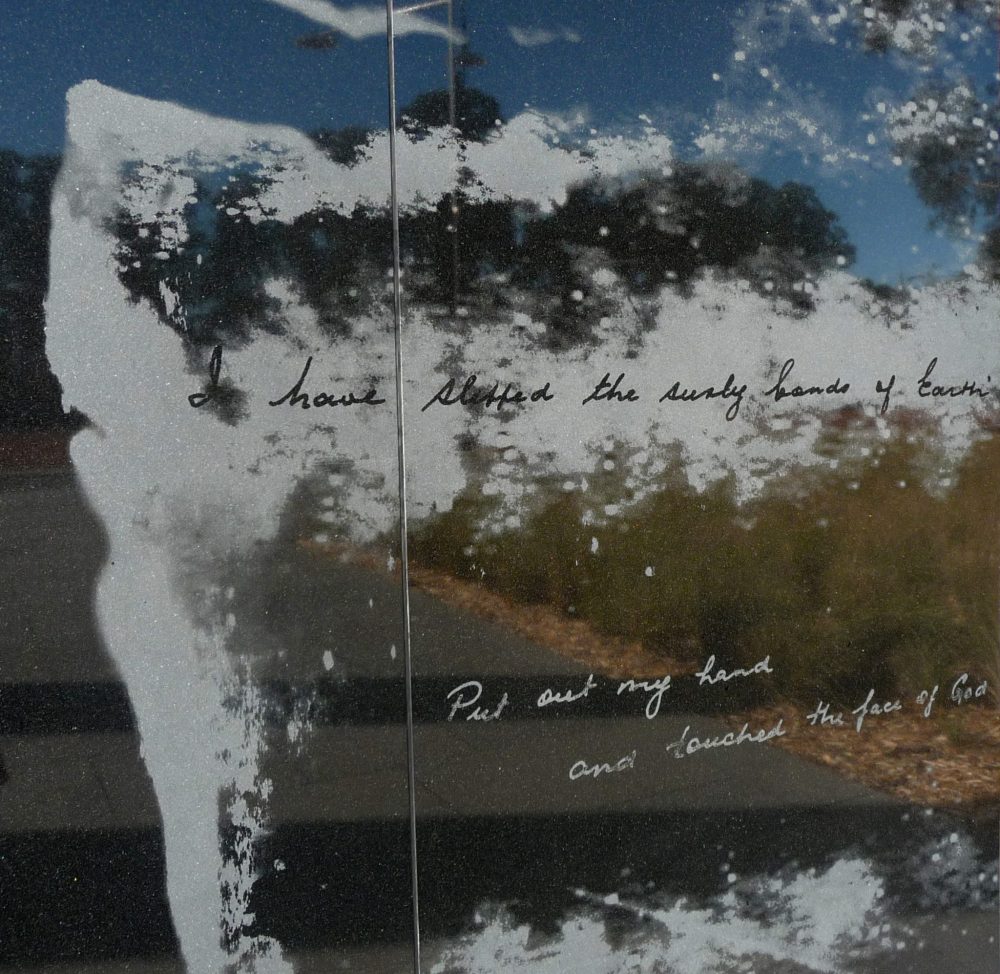 After Paul wrote the first group of poems that responded to my photos, I was quite captivated by the almost delicate tiptoeing into his lyrical versions of Canberra. Especially in a couple of the very short poems, there was a sort of catching and releasing of breath. His response to my shot of the RAAF memorial on ANZAC Parade, for example: 'Hands that have left/no print/being wings' seems to me to be a sort of sob, or stutter of breath; a hesitation in Paul's articulation that reflects the stutter, or perhaps shudder, in history caused by all those unnecessary deaths, and all the sorrow and rage that accompanied them.
After reading his poems, I went out and took more photos, still aiming at the banal but perhaps a little more infused now by lyricism; and then in the process of preparing the photos for the exhibition – cropping and cleaning – I deliberately over-saturated them to make them un-real, more like 1960s picture postcards, more like an evocation than a record – attempting in that way to creep a little closer to the poems themselves. It seemed to me that the process we followed in this collaboration – back and forth, show and tell, revisit and reshape – led to the poems and photos leaning closer and closer to each other until they became less two discrete bodies of work, and more a single statement, if that makes sense.
INTERVIEWER
Another example of the image and the poem merging to become a single statement is 'Conversations'. Could you both talk a little about how this particular work came together?
HETHERINGTON
These works – Jen's photograph and my brief poem entitled 'Conversations' – began with her image of chairs on a table in what looked like a cafe. I liked this image immensely, not only because of the shapes of the chairs, but because of the way the image foregrounded them. A detail that is usually overlooked or taken for granted – the putting up of chairs at the end of the day, often for cleaning purposes – was placed centre stage. And it was placed in such a way that the usual narratives associated with such details were obscured – was this, indeed, a cafe; if so, where was it; and what was the connection to the shop where, as the sign says, there was a 'suit sale'; etcetera?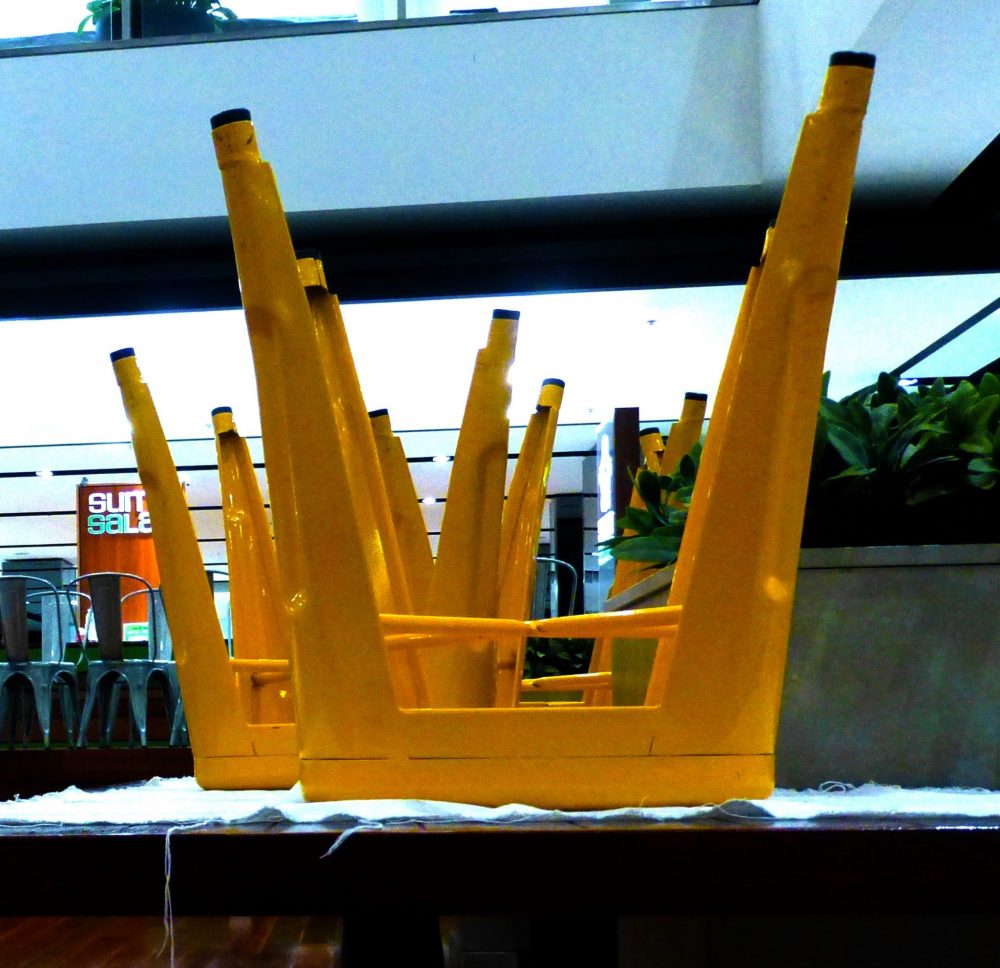 The image was like a quotidian fragment with almost no contextualising narrative. It said to me: 'Look at this. This is what happens every day in many, many places. And, ordinary as it is, there's something noteworthy about it; and even a kind of beauty inherent in the daily rhythms of the opening and closing of shops; and of people coming and going.' And, as I looked, I thought the chairs were like faux gold crowns – not only in their upturned shapes and colour, but in the way the act of placing them on tables at the end of a day 'crowned' the day's business. The image also reminded me that conversations in cafes are often of a particularly ephemeral nature; that cafes are frequently less than entirely satisfactory; and also that there's a certain drabness about the decor of many such places.
In my poem I didn't want to say everything suggested to me by the image; rather I wanted to make a work that might complement the image and provide the reader/viewer with the chance to look twice, as it were, at what Jen had made – once to 'read' the image in the first place; and then to read it again through the poem. In this way the poem was written to be at the image's service.
However, I also wanted the dynamic to work the other way, so that readers of the poem could afterwards attend to the image, importing its visual information back into my words. The poem is deliberately restrained as a result – to allow such a dynamic to occur. It says what I hope is just-enough-and-no-more to be part of that larger conversation between image and word:
Conversations
The café was more drab
than he'd remembered,
neglected conversations
strewn in awkward pride
like yellow crowns.
WEBB
Ditto to all Paul said. I took that photo extremely late on New Year's Eve, slightly tipsy, when we stopped off at the Belconnen shops to pick up milk for the morning's coffee. The place was almost entirely deserted, with everything but the grocer shut down and asleep. I loved the colour of the chairs and the shape of their legs in the air. When I showed Paul, he responded as he said, which led me to revisit the chair images I'd shot, change the saturation, change the cropping etc. I decided, after reading 'Conversations', to pull in very tight around the chairs so that it was AllAboutThem. They are, of course, awkward in that upside-down context – gawky, inelegant, and yet entirely chairs. Thinking about the ephemerality of conversation in cafes, I came to feel that the chairs were utterly uninterested in what we have to say, and that perhaps what matters to them are the long quiet nights when they commune only with each other. (I know of course they are only made objects and not sentient beings, but you know . . .)
INTERVIEWER
Do you see the publication of Watching the World as the end of this project?
WEBB
I think the Watching the World project is over; we've exhibited the work (twice), reworked it, and now published it. But the notion of watching the world is by no means over. Paul and I worked on two other photography+poetry collaborations last year, and are presently working on another, and all have involved, to a very great extent, looking closely at the everyday things of the world, and responding to them. I find myself uninterested in whatever is 'grand', whether it's abstract theories or material objects that are labelled as such. I tend to photograph the un-grand: water, street signs, graffiti, leaves, stones. I like to see what they might say to me in their small voices. Paul has a wonderful ability to find the smallest gesture, the most ordinary story, and translate it into a clear and captivating poem. So many of his poems treat the everyday: family relationships, something someone once said, the look of a jar or cup or dress. I think our two different-but-related aesthetics work well together.
I have been very interested, for a long time, in phenomenology as a way of pursuing research projects, and therefore interested in the thingliness of things, in ways of figuring out what it might mean to be. Related to that is a body of reading I've done in the writings of scholars like Humberto Maturana and Franscisco Varela, who described the reflexive mechanisms that operate in all living beings that allow them to interact with everything in their environment; this interaction means there is a constant flow of knowledge between living beings and environment, and that each is continually changing the other. They were writing as biologists, but the concepts they posited have been adopted by sociologists and philosophers et al, because they open up a very interesting space to think about cognition: knowing, being, seeing. They offer a great phrase: 'Anything said is said by an observer' – and in that seeing and saying, the thing is changed. I'm intrigued by how the act of observing – of watching the world – might change both me and that part of the world I am observing and 'saying', and might afford new ways of understanding. That's probably enough said on that!
I very much doubt we'll ever take the original Watching the World objects out for a spin again (in fact, I'm keen to burn them ceremonially!). I'm confident that we have more projects to come that demand we bring ourselves very close to those everyday objects, converse with them, watch what they do, and have a bash at rendering them in photos, poems or other modes of representation.
HETHERINGTON
I think the answer has to be yes and no. The Watching the World book, and the related exhibition that the book grew out of, have now been produced – although, as this interview is taking place, the book is yet to be launched and it has yet to fully find its place in our literary and visual culture. But I suspect that those projects are unlikely to reappear in any other guise or manifestation.
On a broader level, the book is one of a number of joint projects that Jen and I have embarked on, all of them connected to poetry, imagery and collaboration, and in that sense – as one manifestation of that larger collaborative enterprise – it is perhaps a kind of staging post: a place where we may pause and reflect prior to producing further work.
More generally, still, I tend to think that making art is a more-or-less continuous process in which new work builds on and develops previous work; and in which there are cycles of development and recurrence. I suspect that the writing and photographs in Watching the World have already enabled other kinds of creative work for both of us, and that they will return in some form or another, perhaps years hence – and possibly when we believe that they belong only to the past. In such a recurrence they will no doubt be reinflected and perhaps even wearing disguises of some kind, but in that way they are likely to continue to be part of a future conversation that Jen and I have with one another; and they may help us make further work at that time.
I believe that artists are almost always looking back as well as forwards; that the forwards-backwards dynamic is, indeed, how the engine that drives creativity works. As we watch the world today, we understand where we have been a little better; and we also prepare for what we will do in the future.
__________________________________________________________
Watching the World: Impressions of Canberra by Jen Webb and Paul Hetherington will be launched on Tuesday 21 July at the National Library of Australia in Canberra. The publication can be purchased directly from Blemish Books.
Posted on November 9, 2013 by Verity La in Verity La Reviews
Paul Hetherington's eighth and latest collection of poetry, Six Different Windows, offers the reader the assurance of being in the hands of a thoughtful, intelligent poet. But these are not, thankfully, always 'safe' hands; the writing is at once simple and complex, beautiful and disturbing. These are poems to sink into, poems that are carefully crafted, born through experience and observation/intelligence, poems that deserve rereading and contemplation.
As its title suggests, the collection offers six different frames of exploration through six different sections:
Being stretched across landscapes
You find sensations are yet to arrive
From earlier destinations —
The slant of sun through six different windows …
('Six Different Windows')
The image itself suggests unity and variation, perception and enlightenment. There are poems of time, memory and place; they look back — to places visited, to artistic endeavour, to childhood, and even further back again to mythology and ancient history. In the process of reading through the collection, poems touch gently upon one another, rebound and echo quietly so that past, future, and cultural difference are gathered into the common experience of being human.
This sense of a common humanity is made startling apparent in the section, 'The Vanished Villages', poems of the ancient past that Hetherington describes as his 'archaeological poems'. Some evoke that eerie sense of time folding over on itself, of people from the past made present to us, such as when we look closely at a small, single item in a museum:
Inside the wood
is a trickling stain
like a remnant of breath,
or a song half-played.
('Flute in a Museum')
In other poems about ancient ritual, the writing is stark, vivid, to the point, so that we cannot miss the horror, for example, of a child sacrifice; the physicality of detail brings the person, and the experience, present before us:
her wrist pink-banded under flaxen ties
a clump of reeds in her mouth.
Women pushed a long knife
close to her scalp.
('Sacrifice')
Given such evocations of harshness, a simple phrase like 'her small waist exposed' is heartbreaking, and the telling of her small store of childish memories, her life rerun as she dies, becomes so much more poignant.
In an interview with Verity La, Hetherington says these poems are 'to a considerable extent a way of trying to find analogues for the present; of trying to sift aspects of the present through the perspectives of people who would not recognise many of the ways in which we live but who were, nevertheless, like us' (10 August 2013). And, I suggest, the process also works in reverse. The child sacrifice stands starkly real before us, and the horror of her loss, whose 'vision of self was foreshortened', is intensified in the slant of light from the poems of the first section, 'Corrugations', stories of more recent childhood.
These poems are mostly narratives, apparently-simple stories, their strength formed in the degree to which Hetherington crafts the telling so that the story remains the single most important element, its implications bound into the narrative itself. Anger, ambition, death, discovery, the mysteries of sexuality and the unfolding of adulthood are embedded in the words Hetherington chooses. In 'Abstraction', parents 'counted timely, ticking words', unaware that their children were swinging on a rope hung across a gorge and 'flirted / with visceral crying space / that didn't know itself', countering the threat of both death and language, as yet only glimpsed. These stories of bodies, growth, the fierce determination of childhood are remembrances, all told in past tense and thus pervaded by the narrator's awareness of what is to come; the energy and insistence of growth and experimentation are, at times counterbalanced, almost pulled back, by the imminent sense of what this will become in the future.
Past and present are caught in a continual dance, the flickering light of the 'slant of the sun', where each informs the other. But the past seen only for itself  — stories, places, artefacts, memories — threatens to overwhelm. In 'Medieval Monastery' there is a danger that 'if one knelt down for too long / flesh might begin to decant / into old stone' (42). The woman in 'The Archivist' 'trawls' and 'wades' through the piles of paper in the office of someone now dead, and though she knows that 'even a lonely life sweetens the air', she must still brush the dust from her sleeve even as she plans to 'dispossess this stale fecundity'.
In the section 'Afterlight', stories from the past touch the present in retellings of myth. The grim humour of 'The Muse Drafts her Business Card' will ring too true for many of us as the Muse outlines the rigours of her application form, and concludes tartly: 'A fee applies. / Nothing by email. No tears, please'. The beautiful retelling of the Ariadne story shifts from the evocation of the energy of her body and her wisdom, where the writing presses on, almost breathless, then slows, saddens in the knowledge that 'he' (Theseus is never named) will leave her:
you will have me only
in recollection's dismaying gauze
that throws the past across the present
until there's no clear seeing.
Again, time and memory give a 'slant' of light.
There is, then, threaded through the collection, a sense of loss, or of a process of losing, which is part of life. But the loss is slowed, or mitigated, by the physical world. Relationships, abstractions, spirituality become grounded in the individual and the physical. An artist discovers his god in 'hammering / and soldering metal' ('The God He Found'), and a writer learns from pigs 'splashing in mud' to 'suck at meaning's underbelly', to bring back 'a piece of the wild' ('Forage'). A woman on a train leaving behind domesticity and traveling towards her lover, realises that what she wants is 'not-knowing, the animal life … / She wanted to stay strange to herself' ('Through a Window, Looking Back').
These comments offer only a glimpse of the richness of this collection, and with each new reading more emerges. Nigel Featherstone's interview with Paul Hetherington in Verity La makes a great companion to the book, giving insights on how the poems were formed. I suggest, though, that the poems be read first, and then reread, to allow them space to sing.
Six Different Windows
Paul Hetherington
University of Western Australia Publishing, 2013
112 pages, $24.99
Posted on August 10, 2013 by Verity La in Lighthouse Yarns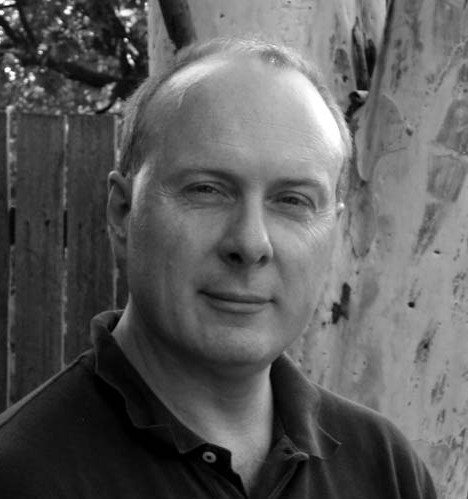 If there's ever a part of human endeavour where people work extremely hard, achieve an extraordinary amount, but, in the main, unless there's a miracle (and we all know they're bullshit), the work goes largely acknowledged, it's the realm of poetry, especially – perhaps – Australian poetry.  So, let's remedy the situation.
Enter this bloke: Associate Professor Paul Hetherington at the University of Canberra has published seven full-length collections of poetry, including the verse novel, Blood and Old Belief (2003) and It Feels Like Disbelief (2007), along with two poetry chapbooks, and the recently published collection, Six Different Windows (UWA Publishing, 2013). His poetry has won a variety of prizes and is part of the online Australian Poetry Library. In 2002 he was the recipient of a Chief Minister's ACT Creative Arts Fellowship and he was awarded a place on the 2012 Australian Poetry Tour of Ireland. His poems have also been published in anthologies, journals, magazines and on websites in a variety of countries, including the USA, England, Ireland, Denmark and Japan.
But we're not done yet.
Hetherington's doctoral thesis explored the extent to which Emily Dickinson's poems may be read as autobiographical texts and, more generally, the ways in which Dickinson might, or might not be identified with her poetry's personae. Formerly publisher and events director at the National Library of Australia, he edited the final three volumes of the Library's authoritative four-volume edition of the diaries of the artist Donald Friend (volume four was shortlisted for the Manning Clark House 2006 National Cultural Awards) and was founding editor of the Library's quarterly humanities and literary journal Voices (1991–97). From 1990 to 2008 Hetherington edited the monthly magazine National Library of Australia News and he is a former editor of the Western Australian monthly multi-arts magazine Fremantle Arts Review. He is a former member of the Boards of Australian Book Review and Conversations (published by the Australian National University). In 2011 he was one of the founding editors of the international online journal Axon: Creative Explorations.
Okay then, that's enough.  Pour yourself a coffee or wine or whiskey, curl up on the couch with your favourite online-reader whizz-bang-kafoops, and let's get into the discussion.  Interviewer: Nigel Featherstone (with dictionary on standby).
INTERVIEWER
Congratulations on the publication of Six Different Windows. If I can add up correctly, this is your tenth book of poetry. What's the motivation behind this latest collection? And is the motivation any different to what drove your previous works?
HETHERINGTON
Thanks Nigel, they're interesting questions. Like most poets, I write poems one by one – although often in bursts of activity – and the collections that are published are to a considerable extent constructed after the event. But, having said that, it is true that most of my poetry collections do have certain abiding preoccupations – usually preoccupations that belong to particular periods of writing.
Six Different Windows deals with a variety of subjects that connect to the way I understand the past and memory. Although I've always written about such matters, I believe that they are inflected differently and perhaps more sharply in this recent volume. For example, my previous collection, It Feels Like Disbelief, which was published in 2007, contains a number of poems about archaeology and how we might understand the contemporary interest in so many things archaeological – programs about archaeology are even popular on television – but it is only in this book that my interest in the subject is explored at some length. These poems are partly a series of reflections about how people may have lived in the past, and they are also a consideration of how we, in the early 21st century, may or may not connect with people from other historical periods and their habits and cultures.
Additionally, some aspects of today's human situation may be more easily understood when we refract them through the lens of past societies and practices – or they may, at least, be more approachable. Human cruelty is an example. We are all aware of the way in which human beings often behave cruelly, especially in wars, but to step back from contemporary behaviour of this kind can be difficult. Poems that explore events in the distant past have the benefit – if that's the right word – of being about something that happened a long time ago and for which nobody now alive was responsible. My poem, 'Sacrifice' attempts to get at something of the ordinariness – even the dailiness – of human cruelty, and the ways in which we justify such behaviour – and the matter-of-factness of it, too. The poem can be read as simply being about the past or it can be understood as a reflection on what human beings are like all of the time – even now, today, as we speak. In this sense, my poems about archaeology are to a considerable extent a way of trying to find analogues for the present; of trying to sift aspects of the present through the perspectives of people who would not recognise many of the ways in which we live but who were, nevertheless, like us.
Speaking of analogues, this book also explores ways of retelling some of the mythological stories that have become ingrained in our culture, and which have been retold hundreds of times, but which continue to offer important ways of articulating what we know. Two long poems in the book recast the Icarus story, and the Ariadne and Theseus story. As far as we know both of these stories originate, in versions now lost to us, in the Cretan bronze age culture and civilisation we refer to as Minoan. These stories – which presumably had considerable religious significance in their original versions – were subsequently adopted and rewritten by the ancient Greek culture that supplanted the Minoans.
One of the most prevalent versions of the Ariadne and Theseus story – I guess everyone would know it – has Theseus arriving as part of an intended sacrifice of Greek youths to the Minotaur and, with Ariadne's help, he kills the Minotaur and leaves with Ariadne, before precipitously abandoning her on the island of Naxos. This story is also part of a powerful set of connected narratives and, in retelling part of the story, I wanted to try to reclaim some space and agency for Ariadne, who in the original and lost Minoan version was almost certainly a god with important powers. But I also wanted to write a contemporary poem – to present a woman who was in many ways stronger and more knowing than Theseus, and on whom Theseus depended for his success and eventual fame. This is, in one way, a different form of my interest in archaeology – and in the creative reconstructions that attend to much archaeological practice – because there are hints in the versions of the story that have come down to us of other stories and other emphases. I cannot retrieve those lost versions, but I can rewrite the Ariadne and Theseus story on the basis of some of the hints I find, as I dig around in various sources looking for clues about what might once have been there.
My rewriting of the connected story of Icarus aims to translate that well-known story into the world of terrorism and suicide bombers – to make it utterly and disturbingly contemporary. Why do this? Partly because the Icarus story is one of those rare narratives that mean almost an infinite number of things at once. It is a story about what human beings aspire to be, and what they are, and what they might be, and how they might become something else. And, although it's not so well known, the Icarus story – narratives about Icarus's father, Daedalus, in particular – already deals with significant cruelty. Rewriting such a story is a way of trying to connect with one of the resonant narratives that has emerged out of what we call Western civilisation; and to make such a story contemporary is to try to speak of the past and present at once – which, generally speaking, is perhaps what poetry and other forms of literature are always doing anyway.
I haven't mentioned the first section of the book, called 'Corrugations', which is about childhood. I have always been interested in childhood and how the intricacies of childhood experience persist into adulthood; and how they inform what we become; and how elusive they can be – and how delineating aspects of childhood can be a way into expressing important things that are otherwise inexpressible. This section of the book picks up themes and preoccupations that have been part of my earlier volumes of poetry, but I have been even more concerned in this collection to present poems that, while they remain lyric poems, have a strong narrative element. This is because the poems in 'Corrugations' are all attempts to delineate some of the key stories of childhood that are more-or-less common to everyone, however much some of the details may differ from person to person. The poems are about growing into selfhood; and about some of the values that are formed as this happens. And they are about how childhood as a reality is nothing like the saccharine version of growing up that some adults wish to remember – and sometimes wish to foist on their own children, too. Significant parts of childhood experience for everyone are fairly stark and bewildering and these poems are an attempt to locate some of the recklessness and even anarchy of that experience; and some of the sexual awakening – and something, too, of how childhood grapples with language and, as it does so, becomes changed and never again like it once was.
The book also presents poems about the importance of literature, art and culture – and, in this way, celebrates making and creativity. Some creative activity can be uncomfortable, but it is a vital part of human society – perhaps even the best part of it, along with the human capacity for love, compassion and charity. I wanted to speak of some of those things, and about how artists continue to help us see the world freshly; and about how they help us keep in touch with quotidian realities as well as the ineffable and the elusive. Contemporary Australian society doesn't seem to know – en masse, at least – how to properly value its artists and makers even though so many Australians are engaged in artistic and cultural practice and associated activities. I think this is a real and ongoing challenge for governments in this country – to learn how to appreciate cultural capital, and individual making. We seem to have no trouble appreciating those who have a lot of money, but that, relatively speaking is banal.
There are poems about travel and about history in this book, too, along with personal poems – I have always been interested in mapping some of the intricacies of intimacy; of what may be involved when we embark on that extraordinary experience of closely knowing another. But if there is one idea that unites this volume, I would suggest that it is a desire to get at the nub of what we do and don't know of ourselves and others, and how we speak of such things, and how the past often reveals us to be different from the way we imagine we might be.
INTERVIEWER
Further to this desire to 'get at the nub of what we do and don't know of ourselves', perhaps in Six Different Windows there's also the desire to get to the nub of what we do and don't know of language?
HETHERINGTON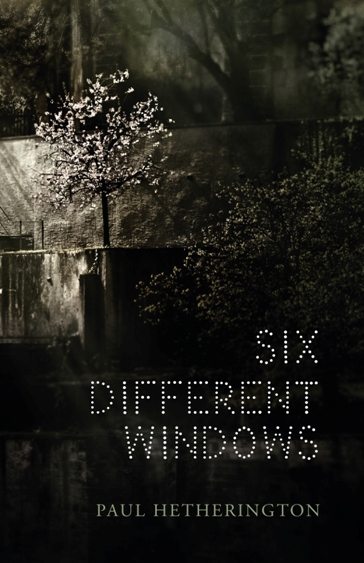 What we do and don't know of language – that's certainly a fascinating thing to ponder. In one sense, all poems are primarily about language and are a way of getting to know it – the bodily and sensory experience of language; the attempt to aestheticise language and make an artefact out of it (the poem); and the use of a poem to encapsulate an idea of language.
For me, considerations of language are connected to many of the most difficult questions about what poetry is or might be.  In our contemporary age, when poetry and prose are sometimes almost indistinguishable – except that poetry is often written in shorter lines (and even that is not always true) – it can be difficult to say what is 'poetic'. One of the ways I recognise the poetic is when I find works in which language is condensed, ramifying, polysemous and unparaphraseable. Part of what I wish to do when writing poems is to make works that speak in such ways – but to do so without resorting to any kind of trickery or artificial obscurity. To write directly and complexly at once has long been an aim of mine, and to register crucial human subtleties and complexities.
Much of what I know of language is elusive – and only able to be expressed satisfactorily through making artefacts (poems) out of language rather than trying to state explicitly what that knowledge may be. Writing poetry is partly an intuitive and mysterious process through which I try to allow poems to form, arrive and surprise me. I often search for poems by stepping back a little from them and trying to allow some poetic conduit or other to open. What are such conduits, and from whence do poems come? These are tricky issues, but I guess, partly, they originate in the infinite place of language-possibility, where, when one is fortunate, combinations of connected meanings effloresce like flares on the surface of the sun and are expelled as what we call poetry through one or other conduit we call making and writing – but which is sometimes more akin to being-made and being-written.
The poet has to work hard if such expulsions and arrivals are to happen, of course. I think of the painful, sometimes sickening work of making, drafting and revising many poems as being a way of honouring whatever the muse might be and of honouring the process I have just mentioned – and as a way of honouring language more generally. It is a way of saying, 'I am serious about what poetry might bring.' We are steeped and formed in language and because, in one sense, language always knows us better than we know it, poetry is often a way of asking language what it knows and what it might offer up.
There may be no 'nub' here, however. I suspect that poetry is at its best when it is no longer a literary genre we call 'poetry', but is language-without-any-one-name – by which, I mean, language that knows itself (which we cannot fully know) and that truly encapsulates and condenses multiplying, self-enriching meanings. This is more akin to language-speaking-itself than any genre.
In Six Different Windows, I present poems that attempt to engage with language at this level, and which also try to create beguiling narratives and suggestive situations and ideas. Some of the poems are explicitly about words – poems such as 'Abstractions' and 'Pale', for example, are about what we can and cannot name. Many other poems are about the disjunction between what we know and say; between what we do and say; and how we cannot fully speak about the import of what we know. This disjunction or gap constitutes a profound space where we negotiate meanings, and continually try and fail to get at just how things were, while all of the time seeing them escaping from us – from our grasp, from our understanding, even from our memory.
Poems can be a way of trying to close this gap, or a way of acknowledging it, or a way of naming it. Poem as way-of-seeing-and-speaking-the-gap-between-doing-knowing-and-saying may be a cumbersome phrase, but perhaps that is one good way of saying – naming – what poems often are.
In Six Different Windows the short poem, 'A Norse Greenlander, 1450', is most obviously about history, and the terrible privations of Greenlanders during a period of great cold:
A Norse Greenlander, 1450
Ruminating,
she sharpens
her wieldy scythe.
Her woollen clothes
are close about her torso,
keeping at bay
the bleating, freezing wind
that blows across a stub of glacier.
Three winters now
her tilling has resulted
in frost-blackened harvests.
Her remaining sheep
are skeletons,
her children
are cramped with rickets,
her husband's ice-pale eyes
are shot through
with estuaries
of blood and forage.
As well as being about history, this poem is about what language tells us of such experiences; how words like 'wieldy', 'stub' and 'forage' work when activated poetically in a dense and sparse poetic tissue. If all poems are largely about words, this is an example of how poems, in largely being about words, are also largely about other things. Or, to put this differently, the more successful they are in being about words, the better they speak of what is beyond words; the better they reveal that words are, after all, grounded in extra-linguistic experience. At its best, poetry brings the linguistic and extra-linguistic into a potent proximity, and that is one of its greatest pleasures.
INTERVIEWER
Reflecting on something you said earlier, an element of Six Different Windows that intrigued me is the barely submerged violence in the poetry, from the rebellion of youth to the outright brutality of more ancient history.  Is this something you've been consciously working through, or is it a theme that's surreptitiously knitted its way into this collection?
HETHERINGTON
The nature of violence and unruliness; of the places that exist outside of the confines of 'right behaviour' have interested me for as long as I can remember. This is partly because some of the unruly places and spaces (both actual and metaphorical) are where creative energy may be effectively channelled. Poetry, for example – or, at least, my poetry – needs to flow from and into places that are often libidinally charged and which are open to a variety of impulses and desires. This is not because poetry has explicitly to be about such impulses but because unless it is gutsy and charged with true, unsaccharine feeling, then it is unlikely to sit up in the mind or on the page. Politeness and empty sophistication, unleavened by this gutsiness, tends to damage art and making, sometimes turning it into various decorative elaborations.
More generally, I believe that to face up squarely to humanity is to see how cruel and violent human beings can be as well as to observe their capacity for generosity, self-sacrifice and charity. It is to notice that many human impulses are crude; and that much of what we see as 'appropriate' behaviour – even as forms of sophistication – are ways of codifiying, and often concealing, fairly basic modes of behaviour. We see this almost everywhere if we look for it – in work places, in many domestic environments and, of course, in warfare.
One of the reasons – and this connects to your previous question about language, too – that the contemporary world has invented an entire lexicon of euphemisms for death and destruction is because, thanks to television and satellites and a host of other media technologies, governments can no longer simply hide behind pat, bland generalisations as a justification for war, invasion and colonisation. Enough of the reality of warfare's carnage and sometimes needless, gratuitous violence filters through to people in their lounge rooms and in the streets, to compel many governments to find increasingly complicated ways of reporting on and speaking about their engagement in warfare. Some of this amounts to the cynical exploitation of the resources of language.
For example, we now frequently have complex hypothetical scenarios presented as the justification for conflict (reality itself is often simply not sufficient). The most notorious recent example was the WMD scenario used to justify the overthrow of an, admittedly tyrannical, government and in order to change the balance of power in the Middle East. Much more common are phrases that have become dark clichés, such as 'ethnic cleansing' and 'collateral damage', which in anybody's plain language mean death and destruction. Poets cannot change these things but they can try to speak clearly and truthfully – to speak against the tenor of these times.
Mind you, in this book my interest is not in the language of governments, but in delineating some of the starkness and plainness of existence – of stripping away, for example, a few of the veils that modern sophistications tend to impose on how we interpret childhood and the past. I try in Six Different Windows to capture something of the wildness of children and some of the strangeness of childhood – not only its unruliness, but the private, hidden spaces that childhood often occupies. For example, the evocation of the games of children in flirting with death in the poem 'Abstractions' is an attempt to say something about how childhood often possesses its own implacable logic and a kind of anarchic free-flow that adult language can neither fully name nor contain.
I remember that many years ago I took one of my daughters and the daughter of a neighbour on a picnic. My neighbour's daughter – perhaps eight or nine at the time – was from an unhappy environment and as we walked back from our small picnic she suddenly moved towards a place where the ground fell away – I think it was a smallish waterfall, and the drop must have been five or 10 metres or more. She stood facing that space for a minute or so – maybe it was longer; it certainly seemed so at the time – as I entreated her to return and at the same time moved carefully towards her, unsure what she was likely to do. Eventually she returned to me – it seemed reluctantly – and we resumed our walk home, but I saw that there was a gap in that child's being, and a space in her life, that was dangerously charged – and it was something that my entreaties, however well meant, could barely touch.
All children as they grow and begin to be more clearly formed – but while they also remain significantly unformed – feel wildness and uncertainty running powerfully through their bodies. It is an extraordinary, fundamentally visceral experience. I'm not talking here about the sexual drives of adolescence that are often so badly understood and managed in our society, but about that earlier wildness and strangeness of being eight and nine, or even five and six. Different ideas of gender float much more freely and unselfconsciously through the body at those ages than they tend to do later, as do a variety of notions connected to what we often call identity, but which may be better called what-it-is-like-to-be-me-here-now-in-this-world. Children are usually less alienated from their animal natures; and their pleasure in inhabiting their bodies can be extreme and profound. They are also often very matter-of-fact about what happens to them and what they do – many of the public dramas of childhood are imposed on children by parents who interpret childish happenstance through their own sets of values.
For example, young children often don't see truth and lies in the way that adults see these things and have to be taught that a lie is a lie and is also not-a-good-thing. Lies, in fact, are often the result of a playful, inventive imagination, and the capacity to construct lies is part of the capacity of human beings to make their world differently from the way that they find it. To be able to lie is to be able to invent. This has been commented on before, but it needs reiteration in a society where many people seem to have an absurdly literal idea of truth and falsity while at the same time being prepared to believe in the literal truth of religious stories that, as far as we can tell, are not even claiming to be literally true – no matter how important they may be for other reasons.
There's a disjuncture here between the truth as we can know it through our bodily experience in the world and the 'truth' that people wish to insist on as artefacts of ideology and self-consciousness. So much human conflict – between adults and children, and between adults and adults – results from disjunctures of this kind, and from the insistence of one party that they know better than another. Poetry, I hope, can be a small antidote to such insistence – a way of looking more accurately at how we are as human beings; and a way of turning our values and assumptions through a variety of different lens.
So, in answer to your question, and among a variety of other preoccupations, this book tries to tease out from childhood, from the archaeological past, from mythological stories and tropes and their connections to contemporary preoccupations, and from the ordinary happenstance of things, some of the less-remarked-upon truths to do with different ways in which we are all implicated in violence and cruelty. We all live with it and know it in myriad ways – even the most gentle and peacable among us – and it constitutes a significant part of what we all are. This is not male testosterone at work – although that is part of it, no doubt – but is about a significant part of what human beings know of themselves in general.
INTERVIEWER
If you have one hope for Six Different Windows, and one hope for poetry more generally, what would those hopes be?
HETHERINGTON
I think that the only hope I have for Six Different Windows is that it finds some sympathetic and engaged readers—and, of course, that someone decides to publish an interview with me about the publication!
As for poetry more generally, I have the – perhaps optimistic – belief that poetry is undergoing something of a resurgence both in Australia and internationally. There are certainly many people writing strong and interesting poetry in this country, and these include poets who are not necessarily well known or widely published. In a globalised world that tends to define success in terms of material prosperity, poetry offers ways into connecting, or re-connecting, with spiritual matters – and, when I use the word 'spiritual', I don't mean religious belief. What I mean is that there are important ways of being nurtured, and of living more generally, which connect to what was once called the soul. We no longer make use of that word very much, but we have no obvious replacement for it either. What the soul needs is what often animates and activates poetry – a cognisance of some of the greater complexities of existence beyond thoughts of immediate gain and individual desire. Arguably, attention to the soul also breeds complexity of mind and, as it does so, has the potential to keep the body – and perhaps the body politic – healthy.
Further, because poetry represents a way of expressing complex ideas and feelings beyond what we usually acknowledge in our daily speaking and doing, it offers a way for people to register a sense of complexity in themselves – and in their associates – that may otherwise go unnoticed. In other words, poetry – and art in general – promises to alleviate that frequent neglect of what one might call 'possibility'. Poetry is able to yield the hard-to-quantify return of stimulating an individual's sense of who they might actually be or become, and how they might imagine themselves more fully. It can, in ways that often go unremarked – but are no less profound for that – change a person's ground of existence. Some people might scoff at this and say that poetry is not much read and changes nothing – and for many people that may be true. However, poetry undoubtedly changes some lives and has the potential to change others. Both reading and writing poetry represent the possibility of better things in a world that sorely needs this possibility.
At the University of Canberra I have been closely involved in establishing the online journal, Axon: Creative Explorations and in founding the International Poetry Studies Institute (IPSI). These activities are attempts to find new ways to publish, discuss and value poetry and poets, and to conduct research into poetry. There is much to be done on these fronts because, in Australia in particular, poetry has been relatively neglected in recent decades – in the literary pages of newspapers, by larger publishers, and even by some writers centres and networks. I believe that it requires focused support and that university research into poetry needs to be pursued as actively as possible.
Overall, then, my hope for poetry is a relatively simple one – that it may prosper and be better supported and understood.
Posted on August 3, 2011 by verityla in Heightened Talk
He held her body lightly,
shirted as it was,
falling backwards as it was,
away from him.
He read in her arched back
the prow-lines of figureheads
on ships that crossed ancient archipelagos
and churned unknown oceans with oars,
fighting the rips.
He read in her thrown-back face
a thousand men spurned
by women who wished to go their own way
and divined in the turn of her arm
where the elbow bent,
where a soft down furred the tender light,
a strangeness.
In holding her
time had no dimension
beyond this falling-back of her voice
and the running steps of her rib cage,
beyond her shadow,
that seemed to possess his light
and the convex meniscus
of her resilient body.
He was alien to himself.
He was clotted and cauled.
Posted on July 18, 2011 by verityla in Heightened Talk
He thought of his family:
how his mother had been locked into grief
about something she couldn't name
and was passionately present
or strangely, remotely apart;
how his father had studiously cared
but had been poor in anger's vocabulary;
how they had grown together
and separated—children and parents
now ghosting each other's lives—
and how every moment was still present
in the places he'd lived,
so that going back was to return to a house
more drab than he'd remembered
and find the conversations again strewn
like tissue all over the furniture
(though the furniture had changed
he could see the old chairs
as if they still had pride of place).
Everything was as it was;
everything was just a moment ago
or about to happen
and although he'd been through it before
the dismay and surprise
suddenly contracted in his guts.
He pushed his way, six years old,
escaping quietly from a darkened room.
Posted on June 30, 2011 by verityla in Heightened Talk
Beaking and clawing, they strew the ground
where the glimmer of oil
and hallucinations of petrol
leak towards a broken bicycle frame.
Benny threw it down, stripping the wheels,
boasting about buying a car and never needing again
to wobble-navigate across the wetland
where the haze of mosquitoes
was a plague from boyhood adventure stories
made red-faced real; where Jenny Mason
undid clips and shook thick hair
while stretching pale legs
with beauty's confidence. The boys ogled her
but she chewed gum and flicked her head
in a gesture that said no. Here
Peter Rymans brought binoculars
to study birds, idealising
the colour and preening habits of the parrots
until one day he was found
half-naked in mud and weed
where the McCullers twins had pushed him.
Now those parrots seem like ghosts
haunting the swamp's redolent memory,
including the day Jenny Mason
showed the story
she had written in looping letters
about the McCullers twins,
and they blushed and protested
as she watched them with an abstracted insouciance.
Posted on June 24, 2011 by verityla in Heightened Talk
They delved in mud under pines needles,
rubbed together like animals,
cupped black pearls of river water
in nail-bitten hands,
drank wind like a tart cordial.
They tasted dirt every Saturday
in scrummaging football games,
forcing the ball forwards
through tackle and pass
towards the skewing posts.
They knew rags of shade,
acrid river flats,
scrags of weed. They picked dessicated birds
from coffins of water, collected maggots in buckets
for the fish they hauled
on twitching hand lines.
They studied moths
while wading in gas-lamped shallows
to entangle prawns
in light and netting.
Under night's liquid constellations
they were barely shadows.