Posted on December 19, 2017 by Verity La in Heightened Talk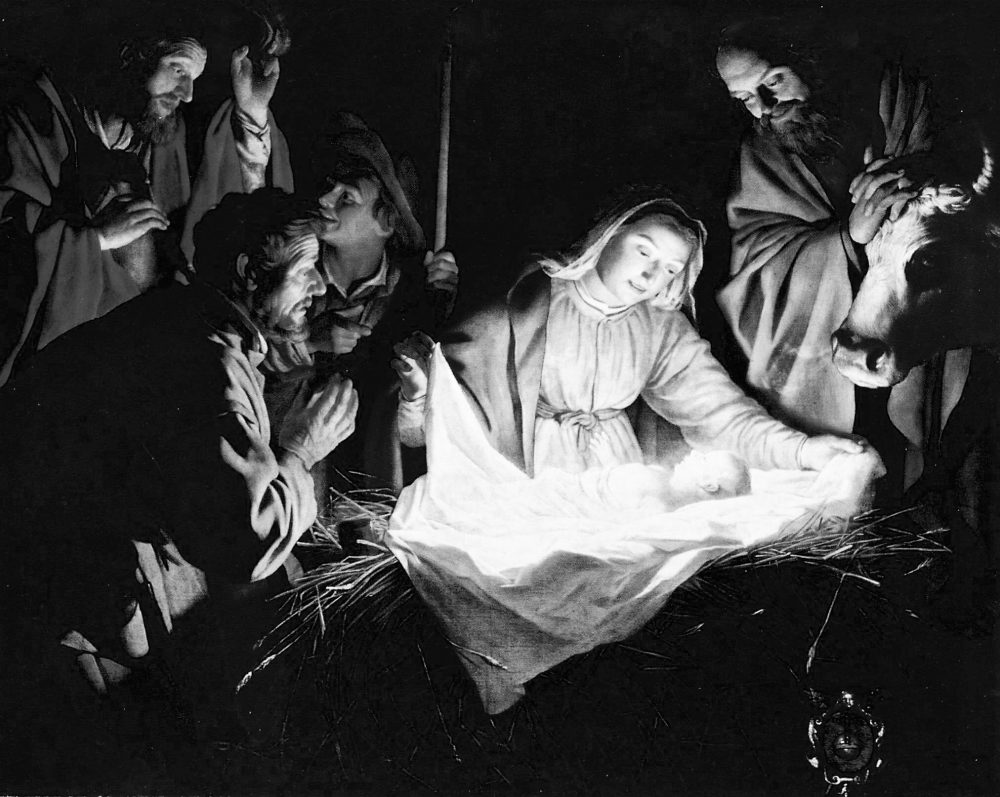 Burning the donkey
We were suspicious from the start.
What decent man brings a wife
pregnant as a pudding
into a new country, unless
he wants the child to be
a kind of hidden penny,
a nice little earner?
She was obviously mad,
whispering something about
a visitation, from behind
an annoying, coy blue veil.
We weren't sure if she meant
secret police (who are unbelievably
common, in the places these people
supposedly come from,
breeding like cane-toads
in their vivid crops of lies).
She mentioned flashes and wings.
As I said, a few bats short of an attic.
He even admitted that he wasn't sure
if the kid was his, or at least
that's what we think he said.
It was hard to source a proper interpreter,
if, indeed, the language was real,
rather than a melange of all things foreign,
stirred like another pudding,
to be tongued off a soon-to-be silver spoon.
Mike said he thought Aramaic
was a perfume for men,
and we all had a good laugh,
but there was absolutely no whiff of that,
I can assure you.
It turned out to be a boy,
born in necessary seclusion,
though Mike said all the lights
turned themselves on
the moment the kid drew breath.
That was undeniably weird,
and a further example
of their lack of thanks
expressed in clever sabotage.
Lawyers even brought in presents,
breaching clear regulations.
Their poor excuse for a boat,
which had evaded all detection
and wound its feral ways to Darwin
despite navy, barnacles, tides and policy,
overladen with stink and sick and
God knows what else,
was towed back out and burnt.
All in all it was nothing remarkable,
although my skin is itching,
itching like an alien.
A nice little souvenir, no doubt about it.
The press should really leave it alone,
and focus on some bigger issues -
a Test begins tomorrow.
Spectre
Slashed into the sea,
it smiles between Gladstone
and the Cape York tip.
Whiter than a ghost's teeth,
it still grins and beckons
and whispers of what was.
Such colours grew there,
opalescent and alive,
and the flutter of fins
cruised the coral jungle;
parrots and striped teams
scrummed over living rock.
Now there are these teeth,
whitened into brilliance
by industrial stupidity.
The reef a skeleton —
or a jaw stuck forever
in a bleached rictus.
And what burnt Hamlet
to soliloquise on death
bracketing our shore?
Two thousand kilometres
grinning white forever,
and rumours of fish
corralled into memory's shoals.
____________________________________________________________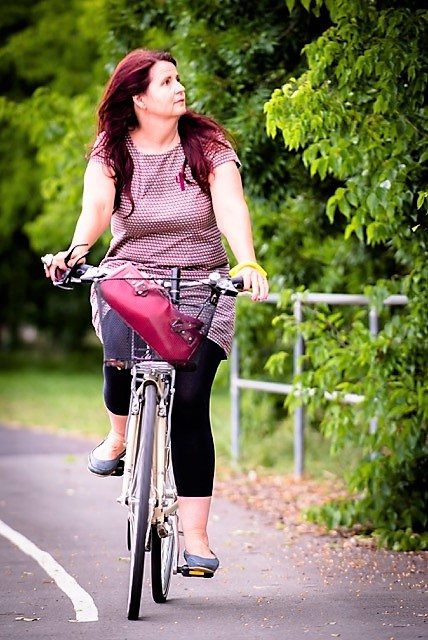 PS Cottier lives in Canberra, where she rides poetry and writes bikes. Some of this appears at pscottier.com
Posted on September 24, 2016 by Verity La in Verity La Poetry Podcast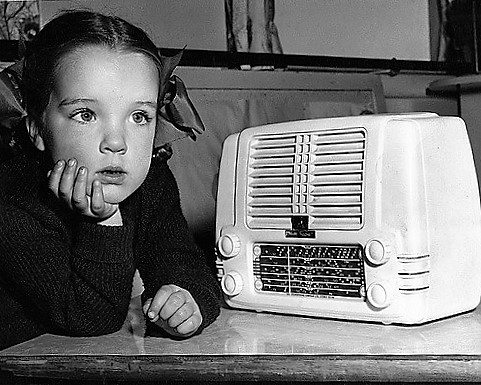 Alice and Michele get straight into it with Canberra-based poet PS Cottier. Does entering and judging literary competitions put you on a special level of Dante's Inferno? Is there a hierarchy of poets and poetry? And why do so many poets succumb to writing 'misty cow poetry'?
Penelope reads her poem from Plumwood Mountain, Reading the Frog Economy, along with Denise Levertov's To Live in the Mercy of God, and her own poem published on Verity La, All the blond Jesuses. We end with a recommendation for Samuel Wagan-Watson's Smoke Encrypted Whispers, and grapple with a definition of speculative poetry (and whether snobbery exists around it).
And if that ain't enough, you can go here to enjoy more of the poems and reviews Penelope has published on Verity La, plus, read a rather intriguing interview…
[powerpress]
Missed our earlier episodes? Listen here!
____________________________________________________________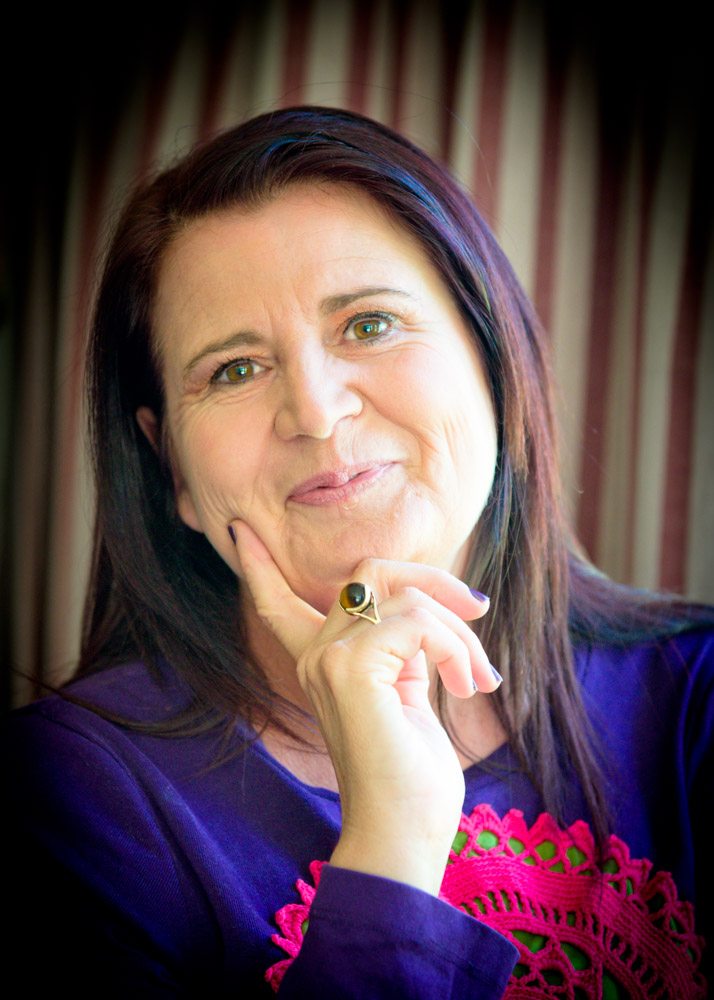 P.S. Cottier is a poet, anthologist and writer who lives in Canberra.  She wrote a PhD at ANU on animal imagery in the works of Charles Dickens, and co-edited The Stars Like Sand: Australian Speculative Poetry. Her latest publication is a chapbook called Quick Bright Things: Poems of Fantasy and Myth. Her blog as pscottier.com is updated with a new poem nearly every Tuesday, and she even reads poems in public.

Alice Allan's poetry has been published in previous issues of Verity La as well as in Cordite, Rabbit and Australian Book Review. She is the creator and convenor of the Verity La Poetry Podcast, as well as producing her own weekly podcast, Poetry Says.
Posted on August 29, 2014 by Verity La in Heightened Talk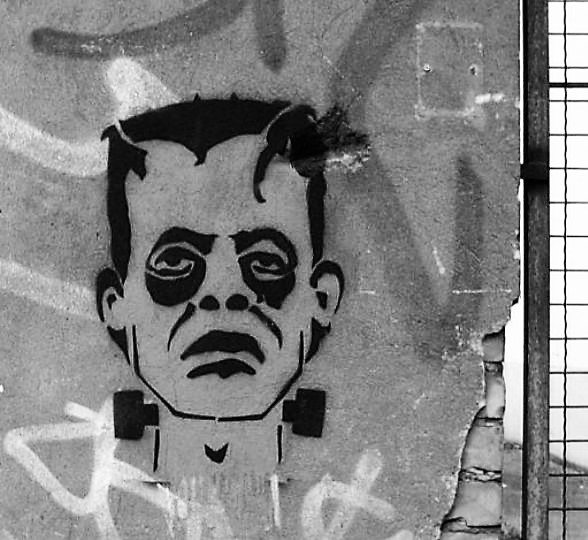 The found poem hates the way
the egregious disruptions of fashion
have shaped his hideous form;
a misshapen picaresque, he lurches.
He is angry as blackbirds in a pie
croaking of their wonderful fortune
to be mere ingredients, gimmicks,
encased in another's recipe.
Found poem finds himself quite
unsatisfactory. Gone all lovely
fantasies, the shimmy of catwalk.
They brushed aside the dreamer
in his dreams, and left him lumpy,
daggy, and bereft.  He would soar
O singing heart turn hawk.
None of that here, no, just
remnants; bits of discard —
here an ear and there an ape.
The Baskerville-shaped shadows cross the floor.
Poem scratches someone else's metaphors
that pull his skin right out of shape.
All thumbs he tries to text himself
a message, but random eyes can't focus.
"If I cannot inspire love, I will cause fear."
*
Sources:
Thy poetry and thy pathos—all so strange!— from Ada Cambridge 'A Dream of Venice'
egregious disruptions of fashion from Peter Porter 'St Cecilia's day 1710'
a misshapen picaresque from John Kinsella 'hydrography'
They brushed aside the dreamer in his dreams from George Essex Evans 'The Master'
O singing heart turn hawk from Douglas Stewart 'Turn Eagle, Lark'
The Baskerville-shaped shadows cross the floor from Peter Porter 'The Puppy of Heaven'
"If I cannot inspire love, I will cause fear."  Mary Shelley Frankenstein
Note 1: the poet has sometimes changed punctuation and line breaks, and almost always meanings
Note 2: the creation of this monster was inspired by a discussion at Under the counter or a flutter in the dovecot
Posted on May 3, 2014 by Verity La in Heightened Talk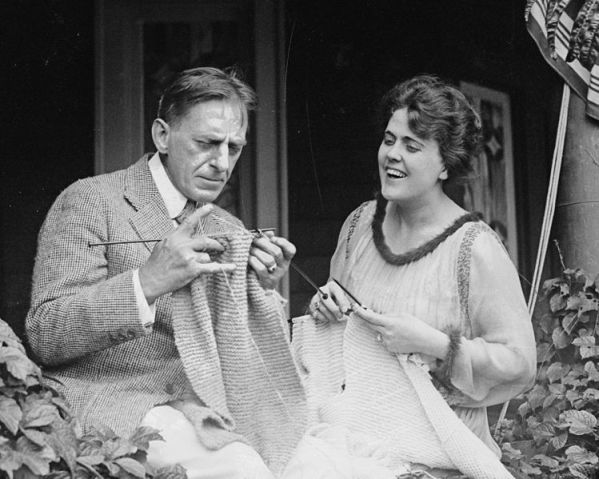 I will never:
1. Bungee, shouting yolo
2. Use the acronym yolo, except in this poem
3. Scuba at sea (it feels like choking even in the swimming pool)
4. Have a dress made in Paris
5. Be thin enough to have a dress made in Paris
6. Be rich enough to have…well you know by now
7. Crunch ortolan with teeth of prey
8. Tango in Buenos Aeries wearing orange tango shoes
9. Tango
10. Waltz like that sweeping scene in War and Peace that prefigured the last glorious flyover (in the film)
11. Forget that I visited Tolstoy's estate and donned slippers fluffy as guinea pigs to shine the wooden floors
12. Waltz like Cinderella dropping a shoe like a solitary glassy dandruff
13. Open for Australia in cricket
14. Play for Australia in any sport whatsoever (though croquet is not yet kicked into touch)
15. (Censored)
16. Fly in a fighter plane
17. Set foot on the moon
18. Set anything on Mars
19. Escape the surly bonds of earth, or the merry ones, for that matter
10. Skydive screaming yolo (see bungee above)
11. Appear on the cover of any magazine, with the possible exception of Poets 'R Us
12. Have another child
13. Be a defender put on Buddy Franklin
14. Be an attacker trying to evade Cyril Rioli
15. Play AFL at all
16. (Censored)
17. Climb a mountain higher than Mount Kosciusko (Mount in Australia means hill elsewhere)
18. Own a gun
19. Shoot a gun
20. Hold a gun
21. Wear sunglasses like Tom Cruise in Top Gun
22. Jump (I can't let both feet leave the ground at once which arguably ties in with my inability to mark Buddy Franklin)
23. Start a blog comment or a post with 'Speaking as a Mum'
24. Play a musical instrument competently
25. Enjoy a ten-volume fantasy series
26. Write a ten-volume fantasy series
27. Reread À la recherche du temps perdus (I perdued enough temps doing it once)
28. Mistake Jonathon Franzen for Tolstoy
29. Mistake Richard Dawkins for Reason
30. Confuse faith with certainty
31. Eat dog
32. Eat cat
33. Eat durian (brain set in Anglo too early)
34. Forget what it is to be depressed
35. Suicide (that is a prayer)
36. Give up alcohol
37. Understand fatalism like a Russian
38. Write a poem about feelings which includes the word 'weep'
39. Attach a sticker to my car that says 'I grew here. You flew here'
40. Whinge about school fees (although you should see the last bill)
41. Forget what it is to miscarry.
42. Forget what it is not to miscarry.
43. Write a book called Carrie (I think it's been done)
44. Judge a book by its genre
45. Sell the film-rights to anything I write
46. (Censored)
47. Forget how luck has lifted me like a player to a mark (compare and contrast with 22)
48. Remember my anniversary easily
49. Regret the final time I menstruate
50. Forgive those who (censored)
51. Write a really long poem (longer than this one)
52. Lift as much as the young men in the gym, even those with execrable form
53. Become obese again (also a prayer)
54. Drive a fast lap at Mount Panorama in Holden or Ford (or even Peugeot)
55. Think that owning a European car is a sign of sophistication
56. Give up wanting a Citroën DS
57. Engage in lively debate about computer software
58. Lose my interest in sex
59. (Censored) (Sorry that was predictable as the shearing of narrative sheep)
60. Vote National
61. Start a sentence with 'I'm not a racist, but…'
62. Ignore cruelty
63. Be brave
64. See a cockatoo without smiling like a crest
65. Surf
66. Learn to listen without nodding or frowning or making little noises (I can be annoying)
67. Remember names
68. Speak fluent French
69. Read À la Recherche du temps perdus in French (It keeps rearing up though and recapturing me)
70. Read Tolstoy in Russian
71. Forget the liberation of escaping school and starting university
72. Use the word 'undergraduate' as an insult
73. Listen to music as avidly as when I huddled under my blankets with a transistor
74. Tell young people that they don't know how lucky they are
75. Direct a film
76. Star in a film
77. Watch an entire Academy Awards ceremony
78. Try cocaine
79. Recite Monty Python at parties
80. Memorise all the characters in Game of Thrones (for they have names)
81. Throw myself into any social situation without a little bit of me sitting on my shoulder, half parrot and half albatross, warning and criticising
82. Write a perfect sonnet (limerick is quite likely)
83. Become a mindless gatekeeper at the Estate of Poesie (aka Downtown Abbey)
84. Write a poem without a single hint of pun
85. Cook a really good meal
86. Sell as many copies of a book as the worst-selling cookbook in the land, the land being Kyrgyzstan
87. Visit Kyrgyzstan, though I have been to Uzbekistan (boasty boasty cheese on toasty)
88. Eat bacon
88. Have maple syrup on that bacon
89. Write a cookbook called Pigging Out or Snout and Proud
90. Become a knitter
91. Wear a homemade beanie on the front of my bacon cookbook
92. Forget the taste of sausages unpolluted by tofu
93. Finish this poem before lunch
94. Include the word 'weep' in this poem
95. Include a recipe in this poem, except in as much as it is a recipe
96. Pass this recipe on as an heirloom
97. Worry too much about my appropriateness or market or sales
98. Lose my love of words (another prayer)
99. (Censored)
100. End this poem with a wise saw or a blunt one
So, to sum up:
Yolo. Yolo. Yolo.
(B
u
n
g
e
e
!)
Posted on March 1, 2014 by Verity La in Heightened Talk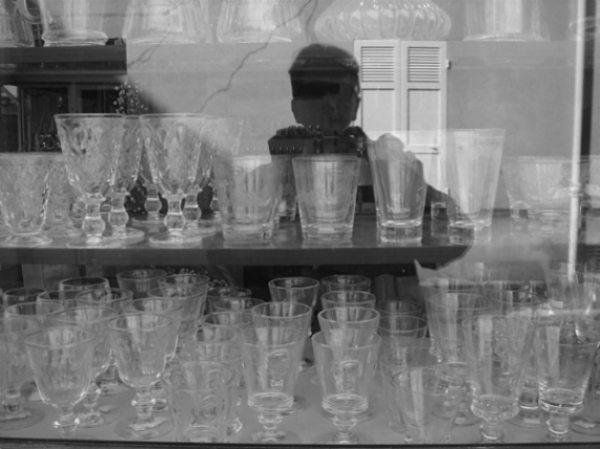 See her reflected in those shop windows?
Mumbling grey granny, disrespected elder,
spectacled and zimmered, inching so fast,
faster than she should.  Faster than breath.
Ninja quiet now, with crochet belt,
and a handbag roomy as a coffin
(her teeth, broken gravestones,
long since fell into gape of mouth).
She follows me to the gym.
Hear her now, on the cross-trainer,
knee knuckles clapping like castanets?
One Direction strains, but professional youth
can't muffle that sharp clack of bony dice.
She comes into the toilet, into the cubicle,
with her array of specialised tools
rummaged from that hideous bag.
Thursday, she iced a single curly hair:
decorated me like Miss Havisham's cake.
I groaned at that visitation from the crone,
the witch whose white is no good at all.
Biddy, fussbudget, battle-axe,
beldam sans merci, stop this stalking!
Quit knitting me into that pattern
of shapeless grey cardigan, weaving me
into you on that inevitable frame.
Fearsome old woman, begone!
Posted on November 6, 2012 by Verity La in Heightened Talk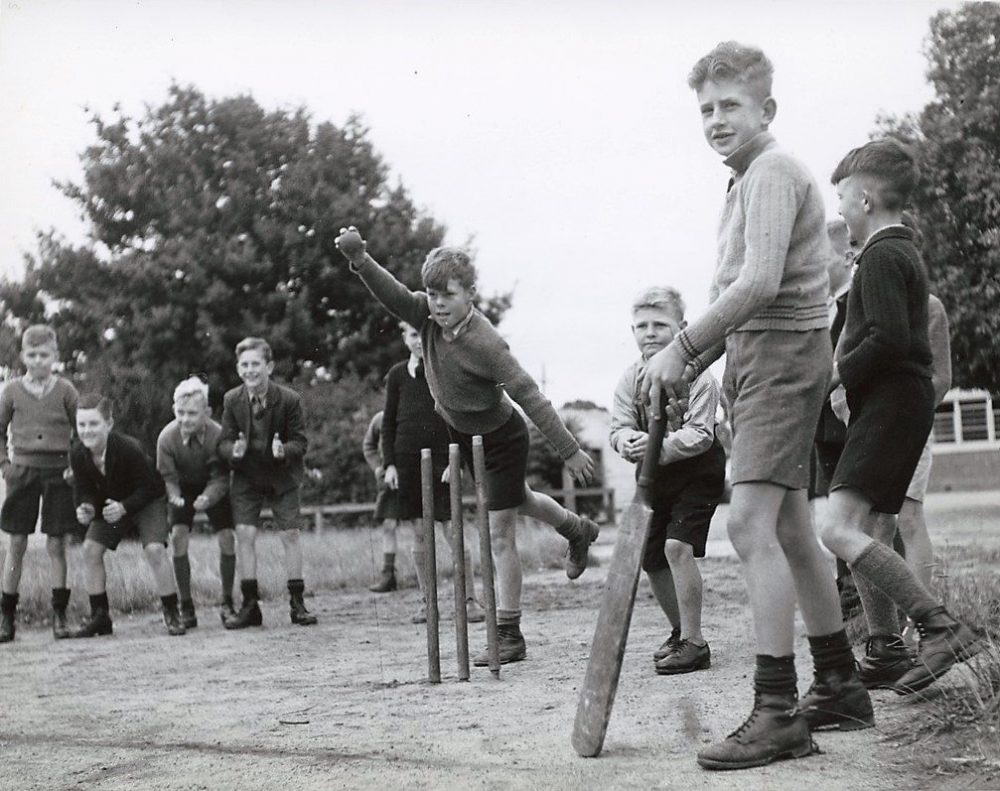 You see them wriggle free of windows,
lithe as silver fish, but golden-haired.
These Jesuses, blond sons of blond Marys,
head out the door to play cricket,
with leather and willow in sudden whites.
St Dorothy joins in, and its all fruit
and flowers and UK May, as Jesuses
bloom like jonquils on the soft field.
Sometimes a Jesus will stop for a while,
and an almost-frown appear. He recalls
another day, when he was darker skinned,
darker haired, and his reaching hands
caught iron, not the ball flicked to slip
like an idea. Oranges smile like cut suns.
The stumped Jesus reconciles himself
to this easier gig, amongst teammates
all as blond and as quick as wit itself.
He scampers between wickets, wood kinder
than when he cried, and slumped and died,
before the dark cave, and its inconstant rock.